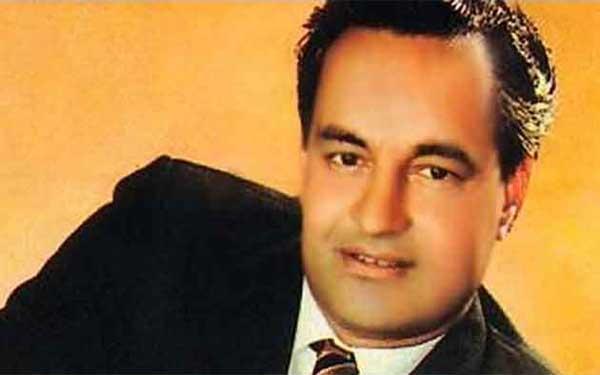 The voice behind classic Bollywood songs like "Kahin Door Jab Din Dhal Jaaye" and "Awaara Hoon," Mukesh was born on July 22, 1923. His name will always be remembered for his unforgettable contribution to the Hindi Cinema industry. Mukesh's hit songs from Hindi movies continue to be popular favourites. He sang around 1,300 songs, the most popular being "Kabhi Kabhie Mere Dil Mein," "Sabse Bada Naadan," "Jai Bolo Beimaan Ki" and "Sab Kuch Seekha Humne." And on the singer's 95th birth anniversary, which falls on Sunday July 22, let's look at some of his popular songs that will stay with us forever.
"Jaaon kahan bataye dil" ("Chhoti Bahen", 1959) - In this emotional tearjerker about family relationships starring Balraj Sahni and Nanda, suave character actor Rehman repents his actions that have broken a once happy family. As he sings "...chaandni aai ghar jalaane/sujhe na koi manzil.." his regret is palpable.
 "Zindagi khwab hai" from ("Jagte Raho", 1956) - Made under the RK banner, this avant-garde film, much ahead of its time, was a commercial dud. Another point of disappointment was particularly this song, broadcast on Radio Ceylon, made everyone think it was picturised on Raj Kapoor. It however had Motilal, playing a rich, drunken sybarite, stumbling down the street with a philosophical ditty: "Zindagi khwab hai, khwab mein jhoot kya/Aur bhala sach hai kya.." (Bonus points for properly pronouncing "khwab" as "khaab" as it is correctly).
"Chhoti si zindagani teri.." ("Aah", 1953) - In this Raj Kapoor tragic romance (later amended after negative audience feedback), Mukesh appears as himself as a tonga driver, transporting a sick Raj Kapoor, which singing this on the short, impermanent life, using the imagery of a bride leaving her father's house.
"Sawan ka mahina" ("Milan", 1967) - Picturised on Sunil Dutt, as he tries to teach Nutan the correct pronunciation is not "shor" but "sor", this eastern Uttar Pradesh ballad was one of the highlights of this reincarnation story.
 "Oh re taal mile nadi ke jal mein" ("Anokhi Raat", 1968) - Another folk song from an offbeat film, set in one single night, this song picturised on Sanjeev Kumar, driving home his newly-wed bride (Zaheeda) in a trundling cart.