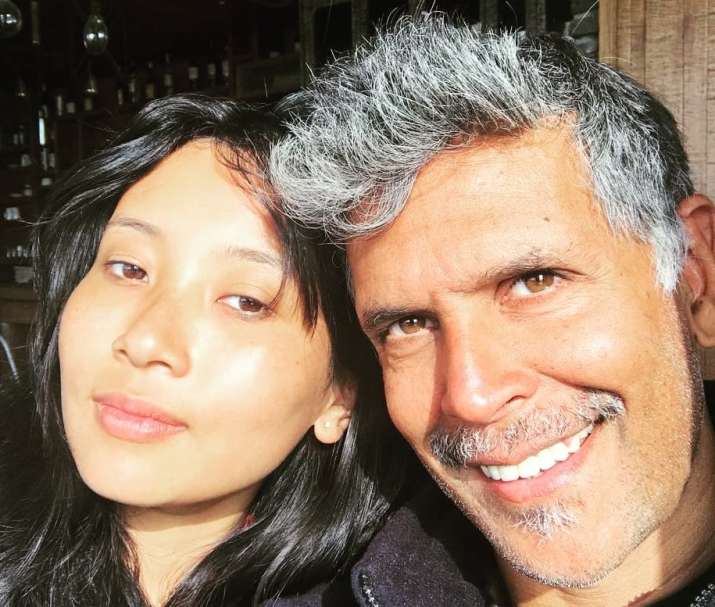 Supermodel-turned-actor Milind Soman and his girlfriend Ankita Konwar recently shared a selfie in traditional attire on their social media. Ankita posted the picture on her Instagram account with the caption 'That selfie'. Internet can't stop gushing over Ankita and Milind's PDA on social media. Majority of comments unanimously said 'Perfect' for their no filter selfie.
Some users wrote, "Super-duper Jodi" while others said, "Nice couple god bless to both of u."
Ankita Konwar is an air-hostess by profession while Milind Soman doesn't need any introduction. Ankita is 20 years younger to Milind, who turned 52 last year. The duo has been dating since October 2016. Initially, the couple faced a lot of flak on social media for their massive age gap. But the way they handled the trolls is commendable. Both of them chose to remain unperturbed by the vicious hate comments they were getting on social media. In fact, to hit back at those trolls, they posed in front of a 'troll' deliberately and wrote, "Ankita&me with a #Troll with #VeryVeryBigEars and a #VeryVeryLongNose #Norway"
Ankita Konwar is also a marathoner now like Milind Soman and his mother Usha Soman. She also shares a cordial relationship with her beau's family. The actor has shared several pictures of Ankita with her mother.
Last year, Milind Soman's marriage rumours were doing rounds on internet. The couple went to Ankita's hometown together for her nephew's birthday. A source close to Milind Soman told SpotboyE.com, "Milind timed his visit to coincide with Ankita's nephew's birthday, so he could meet her friends, family and relatives, who were in attendance. Ankita is almost half of Milind's age, the massive age-gap was an issue for Ankita's family but now after having met Milind, they are ready to ignore the age factor. Now that the lovebirds have the family's blessings, they will solemnise their relationship in 2018".