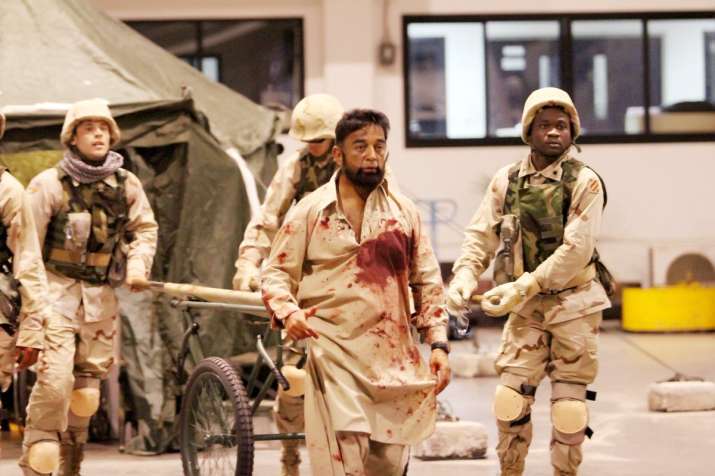 Finally, the much-awaited trailer of Kamal Haasan's Vishwaraoopam 2 is out. The film has a stellar star cast including Shekhar Kapur, Waheeda Rehman, Rahul Bose, Pooja Kumar, Andrea Jeremiah, Jaideep Ahlawat, Nasser, Anant Mahadevan, Yusuf Hussain and Rajendra Gupta. The spy thriller has Haasan playing the role of an upfront RAW officer agent Wisam Ahmed Kashmiri while Rahul Bose reprises his role of Al-Qaeda terrorist Omar Qureshi. The movie traces Wasim's journey of nabbing Qureshi and putting an end to his sinister activities. The movie directed by Kamal Haasan himself will be presented by Raaj Kamal Films International in Tamil and Telugu. Rohit Shetty and Reliance Entertainment will be presenting it in Hindi. The music is by Ghibran.
The trailer contains several high-octane action sequences that will make you blow whistles. While its Tamil trailer was launched by Shruti Haasan, Jr NTR launched its Telugu version. Bollywood superstar Aamir Khan launched the Hindi trailer of Vishwaroopam 2.
"I am extremely happy that we are coming out with the trailer of Vishwaroopam 2. I have to thank you all for the patience you have had for this sequel and the constant love and support has not gone unnoticed. This film is very close to me and everyone who is a part of this film has worked very hard. I also want to thank Aascar Films and V Ravichandran. It is the faith of the people in our work that makes us stronger. I hope you all like what we have made with love and passion for you all, " said Kamal Haasan in a statement. 
Vishwaroopam 2 is a sequel to the 2013 Vishwaroopam, which ran into controversy. Talking about the controversy at the trailer launch, Haasan said, ''The controversy that had risen in the first part was politics.  It won't happen now and if it does, I am fully prepared to tackle it as a politician.''
 Meanwhile, Twitter can't stop rooting for its favourite actor and the action-packed film. From fans to celebs, netizens lauded the effort of Haasan. The movie will release on August 10. Check out tweets below:
ONE MAN. MANY FACES. Feel truly honoured to launch the trailer of this great man @ikamalhaasan sir's labour of love. Here's #Vishwaroopam2Trailer https://t.co/7ZKBRG3pBe

— Jr NTR (@tarak9999) June 11, 2018
Really happy n excited abt this one":) #Kaadan in tamil n #Aranya in telugu :)
Wil b a super journey wid @RanaDaggubati n d team..made some great friends frm #Bollywood @PulkitSamrat best wishes bro:) thx to @ErosNowSouth n #Prabhusolomon sir for d opportunity :) https://t.co/bPpCJHiVKs

— VISHNUU VISHAL - VV (@vishnuuvishal) June 4, 2018
In one word, #Vishwaroopam2Trailer is AWESOME! @ikamalhaasan rocks👍https://t.co/xuwcwigvng

— sridevi sreedhar (@sridevisreedhar) June 11, 2018
#Vishwaroopam2trailer is mind blowing 👏 👏 Can't wait to watch @ikamalhaasan, the actor, in action on screen. @GhibranOfficial delivers a superb score for the trailer. Spectacular action guaranteed, looks like. #KamalHaasan #VR2WorldwideReleaseOnAug10

— Surendhar MK (@SurendharMK) June 11, 2018
https://t.co/uDdtH0PbgJ #Vishwaroopam2Trailer - Well, The graphics work looks pretty ordinary for @ikamalhaasan standards. I hope it will be compensated by splendid dialogues and screenplay . An above average trailer for me.

— Prashanth Rangaswamy (@itisprashanth) June 11, 2018
https://t.co/pFPvCxUera

Something else👌👌 Mindblowing, racy, fascinating, action packed #Vishwaroopam2Trailer.. #KamalHaasan is back at his very best.. #Vishwaroopam2 #VR2WorldwideReleaseOnAug10

Wishing @ikamalhaasan and his team the very best 👍👍

— Kaushik LM (@LMKMovieManiac) June 11, 2018
#Vishwaroopam2trailer is rocking, first part left with full of suspenses, hope 2nd part have all reasons for it..So happy, damn waiting for release, also IMO CG could have improve with the budget!
- Rajinikanth fan

— Srikanth - Rajinified Max (@srikanthkaran33) June 11, 2018
If you haven't watched the trailer yet, watch it here.
For all latest news, keep checking our Facebook page