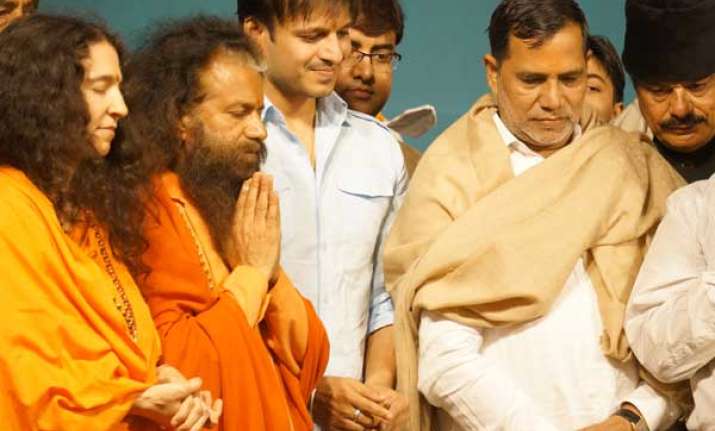 Allahabad, Feb 25: Bollywood actor Vivek Oberoi alongwith his family members on Sunday went to the Kumbh Mela to offer prayers to river Ganga, a day before the last major snan (bathing) is to take place. 
He was an invitee of Ganga Action Parivar led by Swami Chidanand Saraswati. Among others present were former Goa chief minister Digambar Kamat, Maharashtra Congress leader Kripa Shankar Singh and Anti-Terrorist Front chief Maninderjit Singh Bitta.  
Swami Chidanand Saraswati, the head of Paramarth Niketan, Rishikesh, has been spearheading the movement for preservation of river Ganga for the last several years.  
Vivek Oberoi was accompanied by his mother and aunts to the Kumbh Mela.  
Said Vivek: "I did not come to ask anythig of Mother Ganga, but rather to give, to perform seva for Ganga, under Pujya Swamiji's guidance and leadership."
Praising the swami as an "action saint", Vivek Oberoi  recalled the great service done by the swami during the tsunami disaster that struck south India.  
Swami Chidanandji's 6Ts include  (1) tree plantation (2) trash cleanup (3) taps for drinking water (4) toilets, (5) tracks to keep railways clean and (6) tigers to protect their natural habitat.