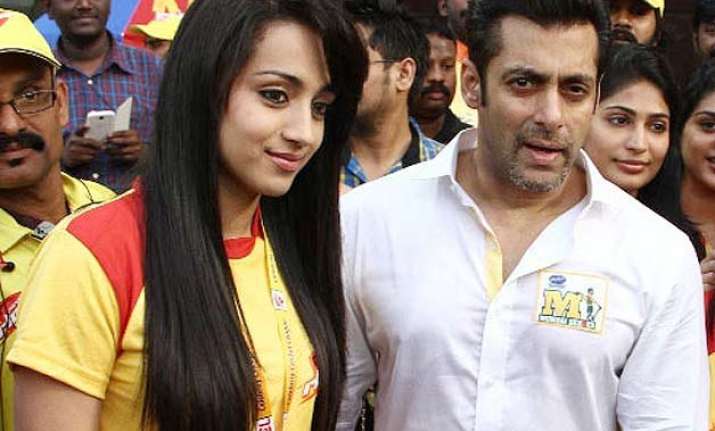 New Delhi: Trisha Krishnan, the beautiful South Indian diva who has recently made an announcement of her engagement, once wanted to marry Bollywood superstar Salman Khan.
In a popular chat show last year, the actress stated that if there was one person who she wanted to propose for marriage, it was none other than Salman Khan. Trisha is set to get engaged to her beau Varun Manian, later this month.
The lady who has debuted in Bollywood opposite Akshay Kumar with 'Khatta Meetha' also claimed that she possessed a deep affection for Salman Khan since her childhood days. When asked on the issue, Salman Khan had mentioned that he was not interested in marriage and gave a smirking reply by saying "For how many weeks? How long? Yaar, I am not interested in getting married."
Completely smitten by our bhai of Bollywood then, Trisha had a popular affair with actor Rana Daggubati too. However, the couple broke up the last year and soon the buzz around Trisha dating a businessman started doing the rounds.
Trisha took it to twitter to reveal about her engagement plans with Varun a few days back. While formally announcing her future plans, the actress posted "To my fans n friends from d media, I will be getting engaged to Varun on the 23 of Jan in a very private ceremony between our families (sic)."
Later, she carried on and posted "Pls don't speculate about my wedding date as we have not fixed it as yet. And as always you will hear it from me first when we do (sic)."
Further, Trisha concluded her announcement by mentioning that she would be doing films after her marriage. "I have no intentions of quitting films. Infact will be signing two new films soon and looking forward to four of my releases in 2015," said Trisha
We wish the actress best ahead!