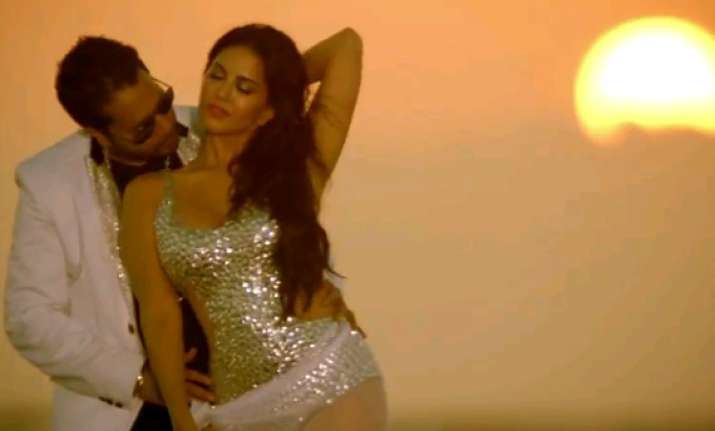 New Delhi: In Bollywood, there's a new saying that tag yourself with the sultry siren Sunny Leone and get all the acclaim and fame.
But it's also said that too much of anything is harmful. Now remove 'harmful' from that and add boredom.
This is what I went through after witnessing the sexy siren Leone in ample of songs and once again zeroing her in, in this new melody out 'Shake That Booty' song also featuring singer-turned-actor Mika Singh.
The song out from Mika Singh's 'Balwinder Singh Famous Ho Gaya' is yet another party number with Sunny Leone adding her usual bits in it. Add some 'daru' keep alongside Sunny Leone along with other beauties and give a damn to the lyrics and musical rules; this is what you get to see in 'Shake That Booty'.
Kudos to Leone's audacity to repeat once again what she is known for in almost all of her songs! On the other hand, Mika Singh is admirable too for his nonsensical moves and lyrics. Wow, shall I say so for Mika Singh repeating those few lines almost dozens of times!
Well, now days it's a trend of such party songs but as said earlier, too much of such songs is diminishing a flutter of liking them.
'Shake That Booty' sounds and seems outmoded number which is reiterated with some shimmer lights and sensual moves that hardly tease to listen it once more.
However, the beats are something which could be marked for once but all in all, the song couldn't entice us even if it's Sunny Leone's presence in it and it just comes and go.
Watch the song and find it out yourself here…
'Balwinder Singh Famous Ho Gaya' marks the acting debut of singers Mika Singh and Shaan. Directed by Sunil Aghnihotri, the flick is slated to release on September 19.