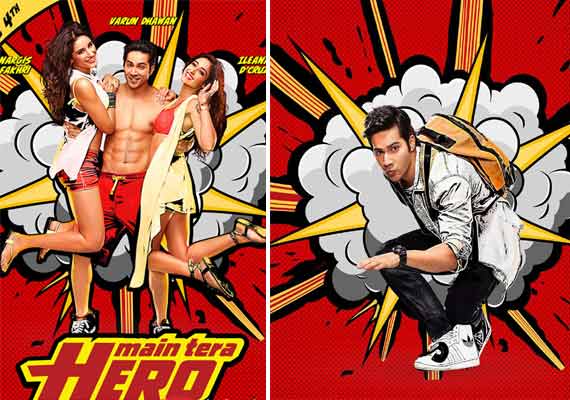 Two and a half star for Varun Dhawan's 'Main Tera Hero'. It is solely him who makes this drama an energetically light-heart entertainment despite it's numerous flaws.

Stars- **1/2

Stars- Varun Dhawan, Ileana D' Cruz, Nargis Fakhri, Arunoday Singh, Anupam Kher
Director- David Dhawan
Music Director- Sajid-Wajid
David Dhawan, who is known for his humourous flicks, is back with a doze of it again and this time he gets a perfect replacement of Govinda in form of his very own son Varun Dhawan.
It has been quite a while, since we have witnessed a humourous drama in cinema, if we ignore the unintentional humour presented in recent serious dramas. For good, David Dhawan's 'Main Tera Hero' is not like his last disaster Do Knot disturb and to some extent his semi-cooked 'Chashme Baddoor'.
However, the flick is far from perfection with oodles of non-sense events, the flick rises above with Varun's energy, who jumps around in every scene with gimmicks and paints the unintentional blemishes.
He plays Sheenu (Vaun Dhawan), the notorious kid in Ooty, who in order to get a degree to prove his worth takes admission in a Bangalore college. But he ends up hoping around the girl Sunaina (Ileana D' Cruz) and challenges Angad (Arunoday Singh), a local cop who forcibly wants to marry her.
On the other hand, Sheenu has found another die-hard lover in Ayesha (Nargis Fakhri) whom he saved from goons by bashing them on his way from Ooty to Bangalore. Ayesha's father Vikrant (Anupam Kher), an Asian Don, kidnaps Sunaina to get hold of Sheenu for his daughter. Now how Varun gets screwed up in this love triangle and how he strikes back, this quiz with twists and turns holds you throughout the 128 minutes runtime.
Now even if the story sounds silly, you are hypnotised by the pace, which David Dhawan never loses. The tried and tested formula gets a new dimension with some one-liners, action sequences and songs.