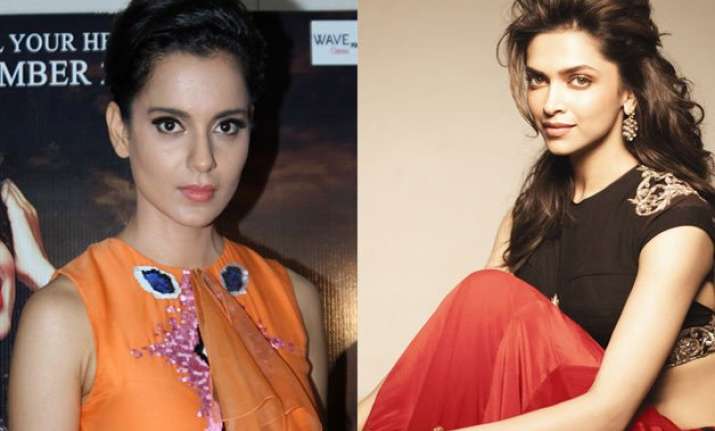 New Delhi: Leading ladies not being in each other's good books is a common sight in Bollywood. This time the ones in context are Kangana Ranaut and Deepika Padukone.
The actresses who have given a loads of blockbuster movies have been in news for their cold war. After the success party of Tanu Weds Manu Returns the ladies have stayed away from each other and there is no sight of things getting better.
You might wonder why? Apparently, Aanand L Rai wants to team up with Deepika Padukone and not Kangana Ranaut for his next project.
Going back, it all started with Deepika dedicating her Best Actress Award to Kangana for her remarkable performance in Queen. Kangana reacted to this gesture of hers saying, "I got genuine compliments from Shah Rukh Khan who called me directly, Salman Khan, Aamir sir called me directly. Amitabh Bachchan also called me directly and even Priyanka (Chopra). Everyone called me, but Deepika never called me." Kangana suggested that if Deepika really liked her performance so much she could have called her to exchange pleasantries rather than making it public.  
Later, the Happy New Year actress had cleared the air between them by calling Kangana. But as it happened Kangana spoke to the media about the phone call, which infuriated Deepika. Deepika Padukone lashed back at a journalist saying, "It was a personal conversation, I don't know why people are talking about it."
Just when things were cooling off between the duo as Deepika had moved past it, relations went back to square one when Deepika could not attend the success party the screening of Tanu Weds Manu returns. , "I did sent an invite to Deepika, but I never got a response. I have always been supportive of my contemporaries and will continue to be, but it is hurtful when you don't get the same kind of support." was Kanagan's response to Deepika's absence.
 However, close ones to Deepika upheld that she was busy shooting so couldn't turn up at the screening and had also sent a message to Kangana. Guess, the "Queen" couldn't forget it which is why Deepika did not receive an invitation to TWMR's success party from Kangana. It was Krishika Lulla, the producer of the movie who extended an invitation to Deepika. Deepika acknowledged the invite and attended the party but Kangana left it as soon as she entered without even meeting her.
We think this is going to go on for a really long time.