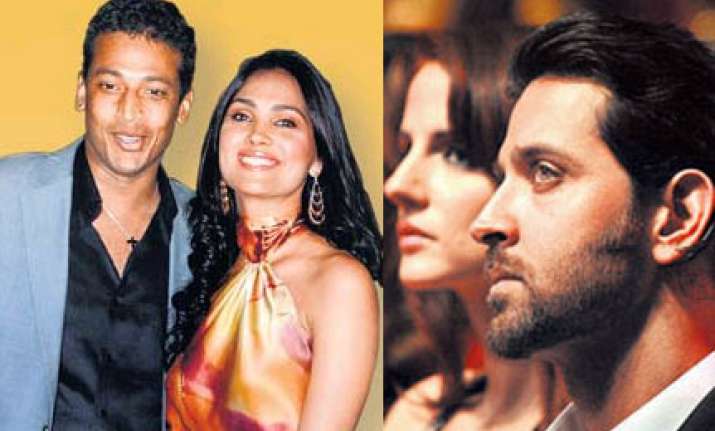 Lara Dutta and Mahesh Bhupathi 
Actor Lara Dutta and tennis ace Mahesh Bhuptahi first denied the story, then they set about painting the town red with their rendezvous. The run can get tiring after a while, and what better than a famed awards night to turn out in full glory. The actress and tennis ace may have finally set the score right. Clearly, they look well salted together and pickled pink.
Genelia D'Souza and Riteish Deshmukh 
They are, they are not… but their relationship is already becoming stuff of Bollywood legend. The couple that has never admitted to their relationship share a moment in the company of friends and Riteish's co-star from Alladin, Jacqueline Fernandes. To their credit they make a fetching pair.
Sussanne and Hrithik Roshan 
They look as if they were painted together on a canvas: Sussanne is all attention for the occasion at hand while our current Greek God looks attractively pensive. The famed termites that had ravaged the walls of their home a year ago seem to have been banished for good.
Subodh Maskara and Nandita Das 
Actor and film maker Nandita Das was seated at the awards function expensively accessorised by South Mumbai industrialist and husband Subodh Maskara. The newly weds couldn't care much about the world around them and look completely taken in with each other.
Shah Rukh and Gauri Khan 
SRK and wife Gauri are the first couple of Bollywood. The two leave no stone unturned to make a snappy style statement. Gauri turned up in a Donatella Versace gown, her diamond studded fingers clasping a stylish clutch. This is a couple that's truly been there, done that; there are no more mysteries to be unravelled, and they are just happy to be.
Arjun and Mehr Rampal 
She mothers him to perfection, her friends have said of Mehr in the past, commenting on her relationship with actor husband Arjun Rampal. But that was the past… Arjun's career has taken off since then and the two - both dressed in stylish black - look like an emerging power couple of Bollywood. It is endearing that they have settled down with contentment.
Kakli Koechlin and Anurag Kashyap
They make an odd couple here: actor Kalki dressed in a diaphanous white saree and an attractively embellished blouse, her bejewelled hairpin in keeping with the spirit of youth is an attractive juxtaposition to her beau, film maker Anurag Kashyap, who looks as if he was dragged out of the house in a hurry. Kalki has often said that Anurag is a tough guy to live with. What can we say, it shows.