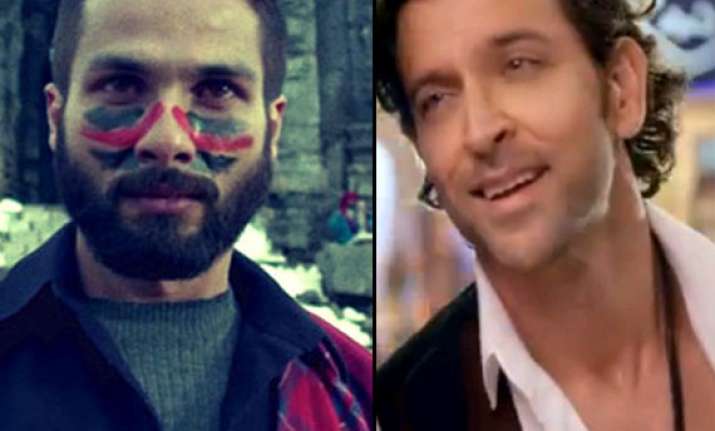 New Delhi: While the teaser of Hrithik Roshan's 'Bang Bang' and trailer of Shahid Kapoor's 'Haider' released separately, the first song teaser of 'Tu Meri' and song 'Bismil' from the respective flicks hit the same day giving enough speculation that the two are no more in mood to co-operate and would dent each other as much as possible.
The fact that both the films are going to clash on the same day i.e., 2nd October has already created enough buzz among the viewers.
When the Bang Bang's mind-blowing teaser got out, the Haider star took on to the twitter and applauded Hrithik tweeting, "@ihrithik blasting off in style brother … Bang on!"
The Greek God too took on the social networking platform and wrote, "Mere bhai, tugethar blasting we make happen! RT"
Hah!  Is it really so? Today it's all about pure business, and nothing could stop the two from making their flicks superior at box office. And last day's step by the two movies say it all. However, if compared, Haider's 'Bismil' full-fledged video song has got good over 84K views on Youtube but Bang Bang's 'Tu Meri' teaser in leading ahead with over 1.3 lacs views.
Moreover, the 'Tu Meri's complete song that got out today has garnered over 1.6 lacs view in less than five hours. Both the songs have our lead actors grooving on the tunes. While 'Bismil' has folksy tunes, 'Tu Meri' is peppy and romantic dance number.
What is common is both the stars are setting the dance floor on fire with a huge spirit. But the date of their release has given a clear indication that they have crossed swords and the battle is going to get intense as the 2nd October inches closer.  
'Bang Bang' which also stars
Katrina Kaif
, is directed by Siddharth Anand while 'Haider' also starring
Shraddha Kapoor
, Tabu and Kay Kay Menon in the pivotal roles is directed by
Vishal Bhardwaj
.