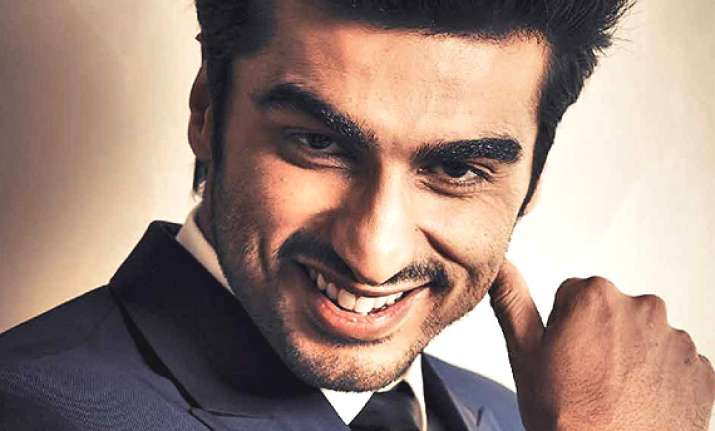 New Delhi: Arjun Kapoor, the new angry young man of Bolllywood has turned 29 today and the entire film fraternity is raving the occasion.
While the actor had a grand birthday celebration at home the last night, his ardent fans and close buddies are trying to take Twitter by storm this day.
Sonam Kapoor, one of the close friends and his first cousin seems decked up with excitement. The actress is continuously posting pictures and birthday wishes for Arjun and is adamant over trending #ArjunKapoorBirthday on Twitter.
All the three Kapoor starlets, Sonam, Rhea and Arjun appear busy interacting with each other on the popular social networking website. Arjun Kapoor has joined Twitter just a day before and is already enjoying a huge fan following there.
The actor received a great warm welcome by his close actor friends and seemed very much active on the platform.
Arjun has so far received heart whelming birthday wishes from Sonakshi Sinha, Parineeti Chopra and Sonam Kapoor. 'Happy birthday baba' is the common phrase you will encounter on twitter today as 'baba' is the name by which Arjun is adored among his closed ones. A lot more wishes are surely awaited!
While Sonam kick started his birthday trend by posting a childhood picture with Arjun, the actor in lieu, posted a picture of Sonam with caption: "@sonamakapoor I have the pleasure of thee company & she's dressed the way I like :) @RheaKapoor @anshulakapoor "
The actress, who is nowadays busy with her 'Khoobsurat,' also shared a friend's picture from Arjun Kapoor's birthday celebration wherein he can be seen surrounded by his birthday cakes and all the dazzling crackers.
The birthday celebration of the actor saw attendance of Karisma Kapoor, Amrita Arora Ladak, Malliaka Arora Khan amongst many other high profile Bollywood glitteratis.
We wish Arjun Kapoor splendid years of happiness on his birthday!