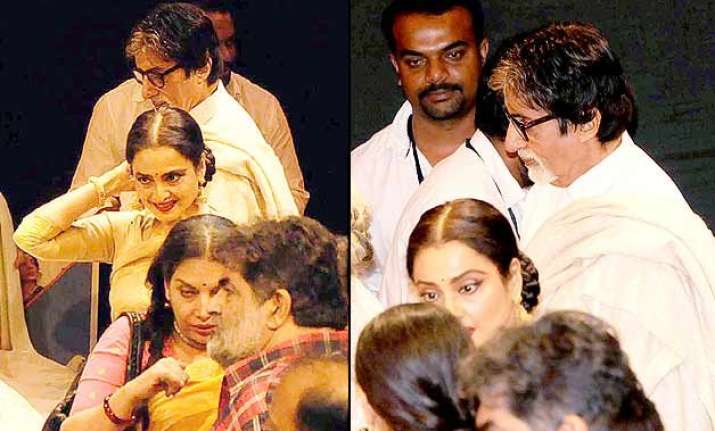 When Big B and Rekha came face to face
Mumbai:
It was a moment of celebration when yesteryear actor Shashi Kapoor was conferred with
Dadasaheb Phalke Award
, however, the moment that captured our eyes was Amitabh Bachchan and Rekha's presence at the event.
Photos: Vinod Singh
The duo, who was in a serious relationship during the filming of 1981 film "Silsila", seemed uncomfortable in the presence of each other. While Rekha personally went to each and every person and greeted, she chose to keep a distance from Big B.
Not only this, both of them didn't share an eye contact even. On the stage, while congratulating Shashi Kapoor also, the two kept distanced and felt uncomfortable. Neither Rekha nor Big B tried to break the ice and greet each other.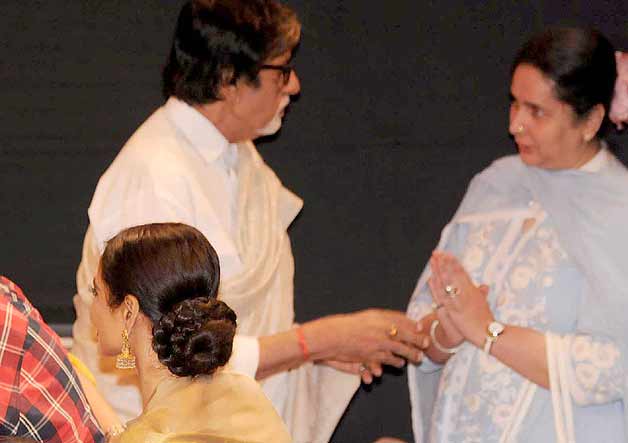 Even when Ranbir's mom, Neetu Kapoor called Rekha to come to her, where Big B was standing, she denied and asked her instead to come to her.
Although, both Amitabh Bachchan and Rekha have always maintained that there is no rift of sorts between the two, it became clear to everyone at this event what kind of relationship they still share.