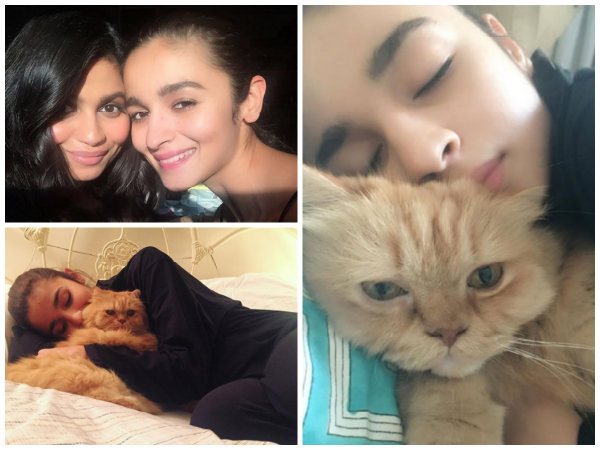 Alia Bhatt is undeniably one of the most gorgeous ladies of B-Town. By making way too many appearances in public without makeup, she has proved that she doesn't need layers of makeup to look flawless. A number of times the bubbly actress won millions of hearts by showing her 'Au Naturel' side to her fans. Here is a compilation of 10 best looks of Alia Bhatt 'sans' makeup. 
Recently, Alia Bhatt celebrated her 24th birthday with the newest member of the family, Edward Bhatt. Before you assume, let us tell you Edward is the newest addition to her feline family. The cat is aww-dorable, but have a look at Alia in her laid-back avatar. 
When gym is your favourite place, then your gym instructor becomes your 'bae'. Here's how flawless and glowing Alia is looking in her gym attire and without makeup. 
Sleeping with the golden ladies! A girl looks ravishing with her guards down, and so does Alia. 
One of the best parts of Dear Zindagi was Alia without or little makeup. 
Alia Bhatt's looks in Dear Zindagi is closest to what's a real girl looks like. Kudos to Alia and Gauri Shinde as well! 
Will she ever let her 'Beauty Secrets' out? Cause we really wanna know what she's using for her skin! 
Photos aren't enough? Here's a video with your dearest Alia in her without makeup look. Can it get any better than this? 
When you're happy from inside, you don't need makeup to make you shine… 
Just a hint of Kajal can make this girl go glamourous in no time! 
Beauty secrets, anytime?