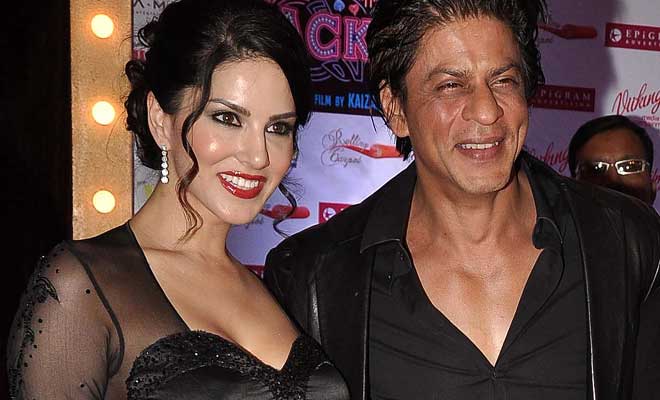 Actress Sunny Leone is on cloud nine as she got the opportunity to become the part of Superstar Shah Rukh Khan's movie 'Raees'. The lady will be seen dancing on the revamped version of 'Laila O Laila' in the flick. Well, the superstar has left many star struck in the past but what happened when the sexy lady met Shah Rukh? Apparently, she annoyed the superstar.
The actress revealed to an entertainment portal that her frequency to say Thank you again and again to the superstar irritated him. Recalling her meeting with SRK for the first time on the set, Sunny said that it was difficult for her to remain calm in front of him. She thanked the star for making him the part of his big project. Shah Rukh on the other hand said, "No, We are happy to have you."
There is a reason why SRK is called the king of hearts, it's because he can easily charm anyone with his words.
Sunnu Leone further stated that she was donning the look of the song, and thus was looking weird when she met the lady charmer.
The actress also shed light on the song and said that it was the moment that changed everything and she worked very hard for it.
Both SRK and Sunny previously had a sugar sweet conversation on the Twitter. The actor couldn't stop applauding Sunny's performances and also shared her first look from the song. The trailer of the 'Raees' had few glimpses of 'Laila o Laila' and needless to say, it has made the wait difficult for movie buffs.
On a related note, 'Raees' features Shah Rukh Khan opposite Pakistani actress Mahira Khan. Nawazuddin Siddiqui will also be seen playing the prominent role in the flick. 'Raees' is slated to release on January 25.