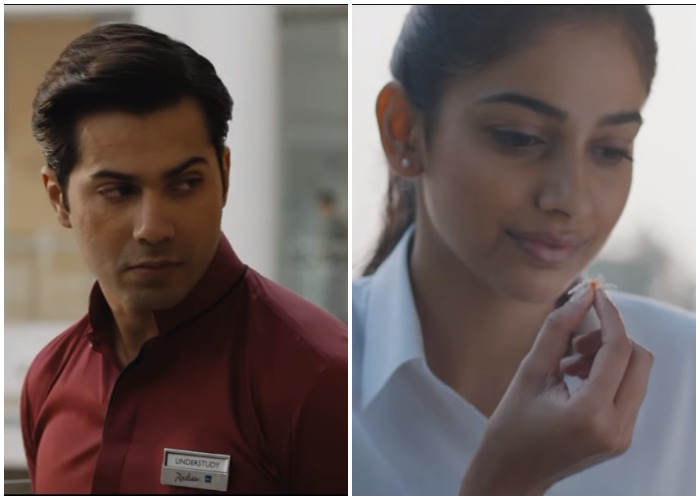 While we're still raving about Shantanu Moitra's captivating October theme, the makers drop the first track of the music album on Wednesday. Abhishek Arora brings the first romantic track of October, Theher Ja to us. In the music video, you will closely relate to Shiuli aka Banita Sandhu who finds solace in stealing glances at her colleague Dan (Varun Dhawan). As expected, the song perfectly meets the standards of a Shooijt Sircar film.
Theher Ja is basically a musical interpretation of passion that a one-sided lover feels. If you've ever been there, done that, the song will resonate well with you. Sans being over-expressive, Theher Ja chronicles the blossoming relationship between two co-workers in the most subtle manner.
In the video, Banita is stealing glances at Varun Dhawan while the latter is too engaged in his work to let out a smile at her.
Theher Ja can hands down be called the best romantic track of the year so far. So far, we've been overloaded with so many rehashed versions of Bollywood's iconic love sagas. Getting an original composition like this is a welcome respite. The music has been composed by Abhishek Arora while popular playback singer Armaan Malik lend his vocals. The lyrics have been penned down by Abhiruchi Chand.
All in all, October is an unusual tale of Dan and Shiuli, two hotel management employees who work in the same hotel. Shiuli who has crushed on Dan forever, utters his first name before being paralysed neck down. This leaves Dan perplexed. Trying to find the answers, Dan paints the beautiful picture of October. Helmed by Shoojit Sircar, October is scheduled to release on April 13, 2018.