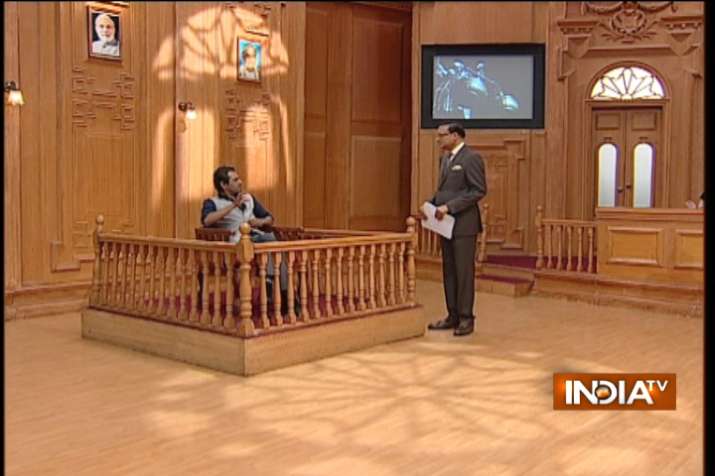 Bollywood actor Nawazuddin Siddiqui says, he is presently the "highest paid actor in Bollywood in terms of acting" and he has thanked film makers for this. Replying to questions in Rajat Sharma's show 'Aap Ki Adalat' to be telecast tonight on India TV, Siddiqui said: "I am the highest paid actor in industry as far as acting is concerned. I did not have to ask. They (film makers) themselves started paying me this."
Siddiqui, however, said: "I do not know, why there is an inferiority complex among us towards Hollywood films. Everybody here wants to work in Hollywood and become big. I can't understand why we have this complex? When we watch films from a powerful country, we feel somewhat inferior. We think our films are not up to their level, but at present, we should feel proud of our films. We are making films with very good content here". 
The actor frankly confessed that he was unable to do dancing sequences in films. "I can't do 'dance-wance'. I never danced in real life. I have a mental blockage as far as dancing is concerned. Thank God, films having dance scenes do not click any more, films with content are clicking."
About his co-star Chitrangada Singh walking away from the film "Baboomoshai Bandookbaaz", Siddiqui said: "She left when half of the shooting was over. Actually our director wanted some more kissing scenes, and she said, 'enough is enough, I won't be able to do any more scenes, and left'."
The actor said, "initially the board ordered 48 cuts in the film, but after we appealed to the tribunal, it was finally passed with eight minor cuts, with all controversial scenes intact. The film is for adult viewing only."
Siddiqui confessed that he felt "uncomfortable" initially while doing kissing scenes. "I actually felt uncomfortable, but after I became used to these, I enjoyed, it was soft-soft"
He narrated how he complained about his co-star Huma Qureshi during the shoot of "Gangs of Wasseypur". 
"We had to do a romantic scene, and she started addressing me as Nawaz Bhai. I went to the director Anurag Kashyap and said, she is calling me 'bhai', how can I do the scene?"
The actor referred to the craze among Indians for fair-skinned people. "A casting director in one of my films once commented about casting handsome and fair female actors with me as weird. In reply, I said, yes, I am dark, I am not a good looking guy, but I do not focus on such things. Earlier I did not have confidence (because of my dark skin), but now I have confidence. 
"I like very much when I go abroad and find people accepting dusky individuals as beautiful, but when we return (to India), we have to face this."
Asked whether he has managed to break the popular perceptions about dark-skinned people, Siddiqui replied: "I now feel happy, and I want tell all dark-skinned people who had been depressed because of their colour, never to focus on this. It is not colour, but your work and your inner beauty that ultimately counts."
On the controversy over his desire to act in Ramlila in his hometown, Nawazuddin Siddiqui replied: "99 per cent people in my hometown wanted that I should act in Ramlila. People from all sections supported me. I grew up watching Ramlilas. My father never scolded me for that, because he knew that by watching Ramlila, one is told about 'sanskaars', about culture, about literature."
The actor said, he had an ambition to do a fascinating role in films. "I want to do a fascinating (ajeebogarib) role, I have no fixed image about that role. When I returned home after doing 'Gangs of Wasseypur', my friends hailed me because as an actor I was now beating up others, while in earlier roles I used to be beaten by others. People in my hometown have this view that an actor is one who beats up people. My view is still not formed (on this)."
Actor Nawazuddin Siddiqui in Rajat Sharma's show 'Aap Ki Adalat' will be telecast tonight at 10 pm on India TV. The repeat telecast will take place on Sunday at 10 am and 10 pm. 
For more entertainment updates, follow our Facebook page