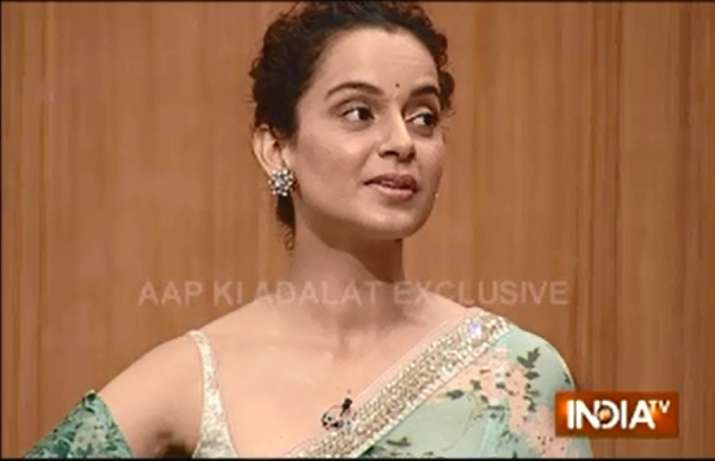 Bold and beautiful Kangana Ranaut has been creating a storm on and off screen. She recently appeared on Rajat Sharma's Aap Ki Adalat on India TV and made some absolutely shocking revelations about her relationships, her ugly public feud with Hrithik Roshan, on Karan Johar, on Bollywood industry and on women commission.
Known for her stellar performances, and opinionated views, Kangana took on Hrithik Roshan and Rakesh Roshan. Here are some excerpts from the show:
Kangana and Hrithik - the ugly battle
Rajat Sharma asked her, "Bahut saare mardon ko dard diya hai aapne (you have given pain to many men)". Kangana counter questioned, "kaun se mard ki baat kar rahe hain aap? (which man are you talking about?)"
"Hrithik Roshan ki baat kar raha hun (I am talking about Hrithik Roshan)," said Rajat Sharma. Talking about a particular incident in the actresses' life, he said, "At Karan Johar's birthday party, you went to Hrtithik Roshan and said 'Thanks for the mails that you have sent to me praising for my Queen performance' to which Hrithik replied, I have not sent any mail to you."
"Maine uske pitaji ko phone kiya 2015 mein aur maine bola aapka beta aisa aisa karta hai use sambhal lijiye.(I called up his father in 2015 and told him about what all Hrithik does)
Fiery Kangana then went on to narrate the entire incident in totality to an absolutely shocked audience who applauded her courage and candour. After Queen released, she said she wanted clarity from Hrithik over marriage after which she met him at Karan Johar's party where he said, "Tumhara dimaag bahut zyada kharab ho raha hai, tumhara toh success dimaag par chadh gayi hai..."  
Hrithik Roshan, in a very public spat, had claimed that Kangana had sent 1439 mails to him. Clarifying the same, she said, "2014 mein humlogon ka relationship bilkul khatam ho gaya tha, usne wo mails khud ko bheje hain, mere account se. Taaki wo dikhane ke liye. Mujhe to tumhari yaad aa rahi hai, main to mar gayi, aur mere dimaag mein problem hai, tum mera ilaaj kara do..." 
She said Hrithik thought he was dating a flop actress but he didn't know she would beeome a star with Queen and a superstar with Tanu Weds Manu. She said he had made a foolproof plan of declaring her mentally retarted. Kangana clarified every charge and opened up like never before.
Issues between Kangana Ranaut and Hrithik Roshan began when the Queen star hinted at Hrithik being her "ex-boyfriend" when she said in an interview that she fails to understand "why exes do silly things to get your attention". Kangana lodged a legal complaint against Hrithik for releasing the confidential emails and photographs of the time when they were dating and tarnishing her image.
Watch the segment video:
On directors, nepotism and films
In an industry that leaves no stone unturned to ensure outsiders play by its rules, Kangana comes across as a misfit to many. Early this year, Kangana appeared on popular talk show Koffee with Karan and turned it around as she called the host Karan Johar a snooty flag-bearer of nepotism and called him a movie mafia. 
She talked about it in detail on Aap Ki Adalat. Here are some excerpts from the show: 
Rajat sair, maine bahut zyada sangharsh dekha hai. Aur maine ye bhi cheez dekhi hai ki kisi ki mehnat se aur kisi ki kismet pe kisi ka zor nahi hai. Main aisa nahi hai ki kisi ko badalna chahti hoon, ki industry aise chale, log aise karein, aisa pata nhi kyon logomn ko lagta hai"
On being asked about why she called Karan Johar a movie mafia? She said that I am not scared of him. Rajat Sharma, "Unhone kaha kyunki main Kangana ko kaam nahi de raha tha isliye Kangana ne mujhe movie mafia keh diya".
Kangana retorted, "Karan Johar ki maine ek film ki hui hai, wo meri life ki sabse flop film hai. Mujhe unse koi kaam nahi chahiye."
Rajat Sharma said, "Aapne unse ye bhi kaha ki wo nepotism ke jo khandaanwaad chalta hai uske flagbearer hain."
Kangana: "Wo mere saamne baithe hue the, baat cheet kar rahe the, unhone mujhe kaha tum apne mein hi rehti ho, kahin koi parties mein nahin jaati ho, dikhti nahi ho,  apna hi tumhara...mein apni family mein hi khush hoon. Apne observation batayi - maine bhi kaha lekin aap log ek close knit circle ho, aap log kafi nepotism dekhne ko milta hai. to maine socha hum kuch yuhi ek aadan pradan kar raje hain vicharon ka. Wop to bilkul hi chadh gaye mujh par, gussa ho gaye. (He was sitting in fron of me, we were talking, he said you are reserve and don't attend parties and all...he made an observation, I also remarked that you people are quite a close knit circle and there is a lot of nepotism that we get to see. I thought it was a casual conversation, but he got angry)"
Rajat Sharma said, "Aapne kaha ki ye chaar paanch khandaan hain jo movie industry chalate hain (You had said that there are these handful families that are running the entire Hindi film industry)."
Kangana who wears her unabashed intelligence on her sleeves, quipped, "Toh ye to baat sach hai (This is true)." 
Kangana takes on women commission
Rajat Sharma: Koyi apko dhamki de raha hai k mai apki video public kar dunga, private baatein janata k saamne rakh deta hai. Aapko women's commission k paas jana chahiye tha shikayat karne? (If somebody was threatening you that he will leak your videos to public... if your private talks are indeed leaked to public. You should have approached the women's commission to register your complaint.)
Kangana said, "Rajat Sir, itne bade log hai ye, itne bade log hai ye... aap maanenge ek time pe toh mujhe aisa laga k agar mai iss cheez se nikal pau kabhi toh wo mera naya janam hoga kyunki emotionally, physically, mentally.. in every way it was the most challenging phase. Usne sare aam notice mei likha tha k tu mujhse maafi nahi maangegi toh mai tere aise photos, aise videos mai public kar dunga. Mai uss time pe Vishal Bahardwaj ki film kar rahi thi toh unhone mujhse kaha, "Kangana baaki toh theek hai but tumhare agar kuch.. jo bhi hai... jo lovers apaas mei exchange karte hai iss tarah ki cheeze... toh agar kuch aisa aaye toh tum maansik tareeke se bohot jyada disturb ho jaogi, tum shooting kaise karogi?". Maine kaha ab kya kar sakte hai? Unhone bola tum women's commission k paas jaao aur tum unhe bolo k baaki case mei chahe wo interfere naa kare but ye jo hai jo likha hua hai notice mei k leak kar dunga...ya leak kare. Toh meri sister Rangoli ne women's commission ko phone kiya toh Gurmeet Chaddha kar k jo unki head hai Mumbai mei.. pehele toh bohot jyada excited ho gayi woh k haan high-profile case hai, Rakesh ji ko batayenge kaise koyi aise dhamka sakta hai kis ko. Toh humne kaha chalo they will look after this matter. 2 din baad phone aata hai Rakesh Roshan k office se, arre mere toh bohot ache mitr hai, aap log thoda sa.. ye toh thoda jyada hi haath se nikal rahi hai.. ye woh... matlabh sochiye aap... mere jaisi ladki jo ki actress hai, successful hai... kitne bikau log hai? Kya hoga women's commission ka? Women's commission se toh mujhe nafrat ho gayi hai uss din se. Ye log dhongi hai saare." 
("Rajat sir, these people are so big, so big... you won't believe me that at one point of time I thought that if I get out of all these things, it will be my rebirth because emotionally, mentally, physically… in every way it was the most challenging phase for me. That guy blatantly mentioned in the notice that if I don't apologise to him, he will public my private videos and photos. I was doing a film with Vishal Bharadwaj at that time. So, he told me, "Kangana, if if these things (which lovers exchange between themselves) are made public, you will get mentally disturbed, how will you continue the shooting for the film?". I asked him what should I do now? He told me you should go approach the women's commission and tell them that even if they don't interfere with the rest of the case, they should make sure that your personal things are leaked in public. After that my sister Rangoli went to the women's commission, she called them up and there was one Gurmeet Chaddha who was head of the commission for women in Mumbai. When she heard this, she got very excited, saying this is a very high-profile case... we will talk to Rakesh ji and tell him that how can somebody threaten like this? Then I thought the commission for women will consider this. However, two days later, I got a call from Rakesh Roshan's office, saying "They are my good friends, this matter is getting out of hands... this and that". Just imagine this can happen to me... I am an actress, successful actress. How corrupt these people are? What will happen to the commission for women? I have started hating them from that day. They are just imposters.")   
Watch the segment video here:
Here is the complete video that was telecast on Aaj Ki Baat with Rajat Shar
Rajat Sharma's Aap Ki Adalat will be telecast on Saturday, 10 pm. Repeat telecast will be on Sunday 10 am and 10pm.