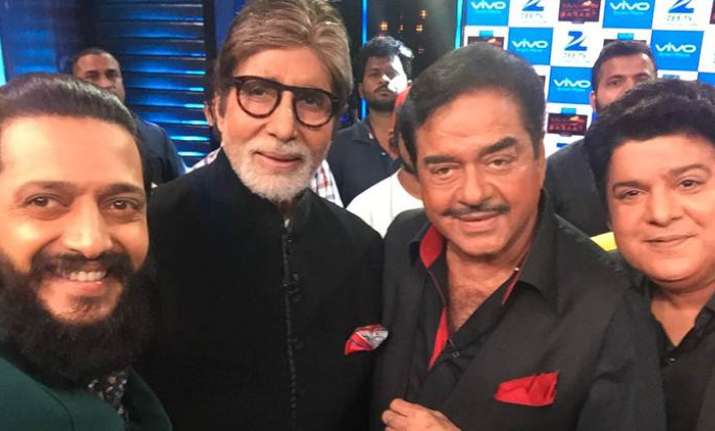 Megastars Amitabh Bachchan and Shatrughan Sinha, who have given several splendid hits during 70s and 80s, are all set to recreate the magic once again on the screen.
However, this time it will be for a television show 'Yaaron Ki Baraat'.
The two legends will be reuniting after 35 years on the show which will be hosted by actors Riteish Deshmukh and filmmaker Sajid Khan.
Bachchan and Sinha were last seen in 1980 release 'Dostana', after which reports of tiff between the two started doing the rounds.
But Riteish, Sajid's chat show is bringing the legends together for the first time post their rumoured tiff.
While the team has begun shooting for 'Yaaron Ki Baraat', Riteish Deshmukh confessed that it was indeed a 'fan boy' moment to have the legends with him to talk about their friendship.
Amitabh Bachchan and Shatrughan Sinha happens to be the first guest of the show and Riteish said that he was quite thrilled with the though of interviewing the veteran actors.
"It was a fanboy moment for me to sit in front of the two living legends whom we have grown up idolising. They put us at ease immediately with extremely endearing memories of their friendship," Riteish said in a statement.
On the other hand, Riteish's co-host Sajid Khan admitted that he was nervous while shared a word with Big B and Shotgun because it was a "completely different ballgame" for him to chat with them.
"To be honest, I was very nervous. But the two of them were such a sport and very forthcoming about their friendship. Their conversation took us all to the golden era that we have only watched in the movies and they revealed so many things that we didn't know about them," Sajid said.
The premiere episode of 'Yaaron Ki Baraat' will be aired on October 8 on Zee TV.

(With IANS Inputs)