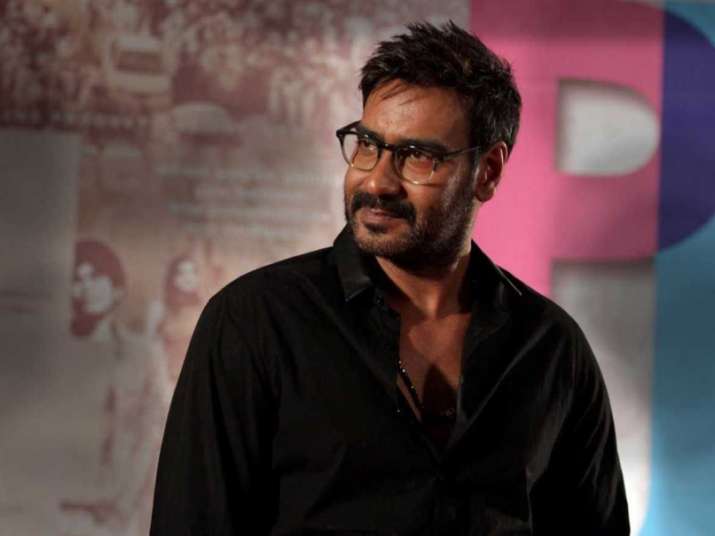 It was exactly 25 years ago when a young Ajay Devgn rode on two motorcycles on the silver screen and changed the course of Indian cinema for a while. He pulled this stunt in his debut action movie 'Phool Aur Kaante' where he played the role of gangster's son who wanted to write his life on his own terms.
This was an era when the box office was bombed with one after another romantic movies after the super success of Rahul Roy and Anu Aggarwal starrer Aashiqui, released in the year 1990, a year before Ajay hit silver screen.
Ajay, son of Veeru Devgan stunt and action choreographer, action sequences were breath of fresh air on the silver screen. Following the success of Phool Aur Kaante action was new genre on the BO.    
Since then, Ajay Devgn seems to be the same Ajay from the 1991 movie who was convinced to create his own legacy.
Over the years, Ajay has managed to break free from all the set norms of Bollywood. With the choice of his movies, Ajay has proved that one doesn't need to have Khan as surname to get a huge fan following.
The versatile actor, Ajay, has won two National Film awards, when his contemporaries don't even have one. It is worth a mention that over his career spanning 25 years, Ajay has worked in many movies that draw references from real life. As he marks his silver jubilee anniversary in Bollywood today, have a look at his varied performances.
Zakhm: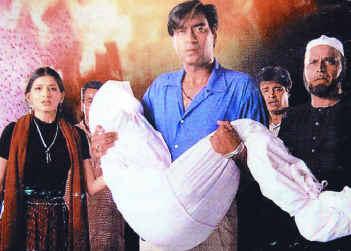 Zakhm drew inspiration from the real life story of Mahesh Bhatt. Bhatt, never shied away from accepting that he was a love child of Hindu producer and Muslim lady, made this movie that won critical acclaim. In the movie Ajay played the role of the love child, who learnt about her mother's (Pooja Bhatt) religion after she passed away. This movie established the fact that Ajay can perfectly enact sensitive roles as viewers connected with each emotion of his. It was the amazing performance that earned him his first National award.
The Legend of Bhagat Singh: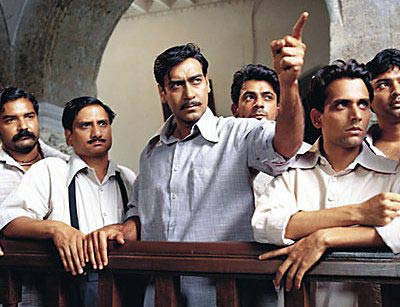 After seeing, Ajay Devgn as the freedom fighter in Shaheed Bhagat Singh in this 2002 movie, almost all eyes had become moist. As the protagonist, Ajay did an impeccable job in telling the story of the brave freedom fighter who was hanged to death. He was awarded his second National film award for this movie.
Gangaajal: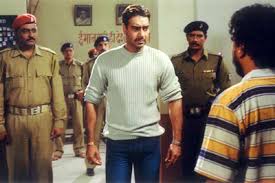 This 2003 movie was the first time that Ajay teamed up with ace filmmaker Prakash Jha. Apart from highlighting how people were troubled under corrupt politicians, the movie also showed the infamous Bhagalpur blindings of 1980 where police officers blinded around 31 under trial individuals. In the movie, Ajay played the role of an honest SP Amit Kumar who stood up to both corrupt policemen and reprimanded his subordinates for violating human rights. He earned new fans and this high on action, drama movie became a box office success.
Company: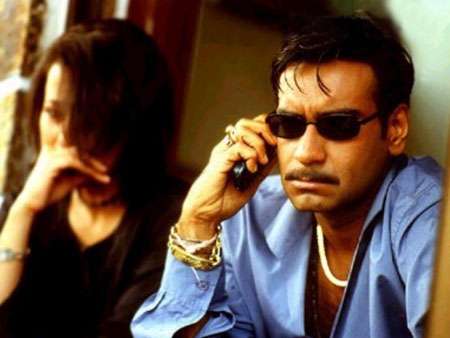 This Ram Gopal Varma directorial was a fictional take on the Indian mafia organization D-Company, said to be run by fugitive underworld don Dawood Ibrahim. The 2002 movie showed the economics used to run the mafia organisation where Ajay played the role of N. Malik, the leader. Ajay's serious portrayal in this realistic movie was applauded.
Once Upon A Time in Mumbai: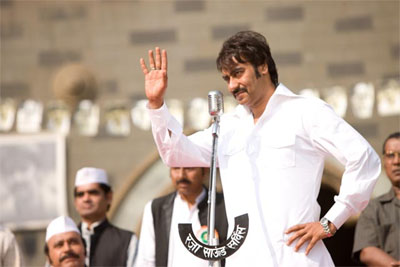 This 2010 super hit movie drew inspiration from the rise of Mumbai underworld. It was said to depict the lives of two famous gangsters of the city Haji Mastan and Dawood Ibrahim. The movie showcased how Dawood rose to become the don he is now, after Haji's death. Ajay Devgn essayed the role of Sultan Mirza in the movie and left viewers impressed. Few of his dialogues including 'Bas dua me yaad rakhna', are still loved by cine buffs.
Apart from being an actor, Ajay is also a producer and director. It is this multi-talented façade of him that is loved by his fans. On his 25th anniversary in Bollywood, he was one of the top trending topics of micro-blogging website Twitter. Check out tweets from his fans that reflect their sheer happiness.
Salute2 natural actr @ajaydevgn sir
for compltng 25successful yrs in
Bollywood
2 National awards
4 film fare awards
25 Years Of Ajay Devgn

— Vinay Savashe (@vinayaksavashe) November 22, 2016
25 Years Of Ajay Devgn
He gave so many entertaining movies but manyy times luck was not support him
But Than,Now,Forever
We love u😘😘

— ᴴᵁᴹᴾᵀᵞ (@SRKs_Rakesh) November 22, 2016
25 Years Of Ajay Devgn @ajaydevgn @Filmymantra pic.twitter.com/3UWns8brP1

— Filmymantra.com (@filmymantra) November 22, 2016
a man with a few words...a man with a vision @ajaydevgn
25 Years Of Ajay Devgn

— forever aamirian (@racquel_erika) November 22, 2016
Yeah! Probably d only actor-director-producer @ajaydevgn hs sqeaky clean image
25 years Of Ajay Devgn https://t.co/tO4HtJaJdR

— Madhuri Naik (@madhurinaik) November 22, 2016