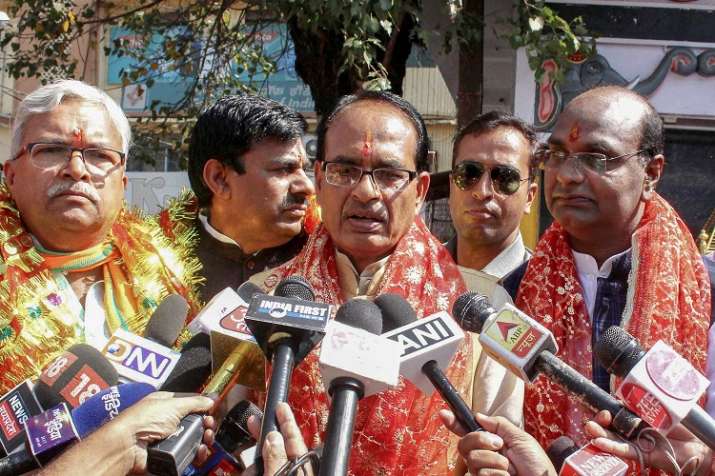 As the campaigning for the upcoming assembly elections is garnering steam, all the political parties in the state are leaving no stones unturned to pitch themselves ahead of the polls. Madhya Pradesh Chief Minister Shivraj Singh Chouhan on Saturday fired a fresh salvo at the Congress party saying that they were creating obstructions in the path of development works carried out by the BJP government in the state.
Addressing a rally in Pushparajgarh, CM Chouhan stated that the poor conditions of the roads and the dismal state of electricity and water supplies were not taken care during the previous Congress government headed by Digvijaya Singh.
"When I came to power in 2003, Madhya Pradesh was in a terrible condition. Roads were in a bad shape. There was no power and electricity supply in the villages. Now, everything has changed. Roads habe been constructed in all villages. Electricity condition has been expanded and power supply reach has widened", Chouhan said during his adderss.
Lashing out the former government, CM Chouhan said that the people of the state were fed up with the Congress party, which had betrayed them several times.
"When I give food grain by charging just Rs 1 to poor people, Congress gets agitated. When I carry out development works, Congress gets angry, I pay fees for poor children, Congress gets perturbed. I give strict punishment to rapists, they get angry. Congress cannot digest the idea of farmer's son being at the helm for the past 13 years", Chouhan said.
Continuing his tirade, CM Chouhan said that the Congress slogan of 'Garibi Hatao' (Eradicate poverty) has been there since the time of Indira Gandhi and Rajiv Gandhi. But the poor did not get anything. They have been betrayed time and time again. I vow to eliminate poverty with programmes aimed at the welfare of poor people".
Madhya Pradesh will go to polls in a single phase on November 28. Counting of votes will be held on December 11.