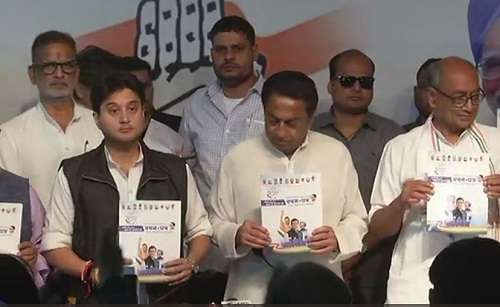 The Congress party on Saturday released its manifesto for the upcoming assembly elections in Madhya Pradesh. 
Madhya Pradesh Congress Chief Kamal Nath, chief of the campaign committee of the state Congress Jyotiraditya Scindia and Digvijaya Singh unveiled the manifesto in Bhopal today. 
Promises in the manifesto included reduction of 50% in the electricity bill of farmers, slashed petrol and diesel prices, opening of 'Gaushalas' in every Gram Panchayat.
"We will reduce the electricity bill of farmers by 50%, reduce diesel & petrol prices and open 'Gaushalas' in every Gram Panchayat among other things mentioned in our election manifesto," Kamal Nath said. 
The Bharatiya Janata Party (BJP) ruled Madhya Pradesh is all set to go for polling on 28 November to elect members of the 230 constituencies. 
The last date of filing nominations is 9 November. The counting of votes will take place on 11 December. On 6 October, election dates were announced.
On 7 January 2019, the tenure of MP assembly ends.  
The polls in the state are being seen as a direct political battle between the Bhartiya Janta Party (BJP) and the Congress. While Shivraj Singh Chouhan government will try to win for the consecutive fourth term, the grand old party will fight for regaining power after 2003.