Follow us on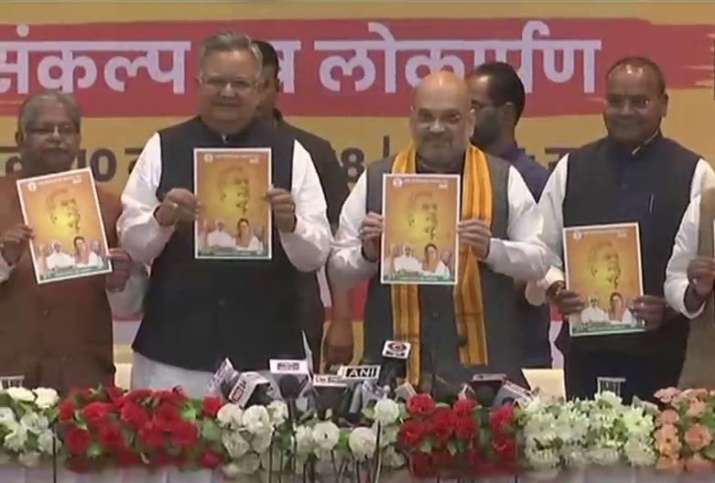 BJP president Amit Shah on Saturday released his party's manifesto for the upcoming Assembly elections in Chhattisgarh. Chief Minister Raman Singh and other senior leaders of state BJP were also present on this occasion. The campaigning for the first phase of elections on November 12 will come to an end today.
After releasing the manifesto, the BJP chief launched a scathing attack on Congress and said that a party that sees revolution in Naxalism can do no good for Chhattisgarh.Praising Raman Singh government, Amit Shah said that Chhattisgarh was the first state to have a legislation on skill development. 
The BJP chief also held road shows in Raipur and Rajnandgaon later in the day.
"Chhattisgarh is the best example of a welfare state. Raman Singh has made a successful effort to change Chhattisgarh in the last 15 years. The biggest achievement of the Bharatiya Janata Party regime here is that it has tightened the noose on the Maoists. t has almost freed the state from the insurgents," the party chief said.
"Now, when Raman Singh returns to power, he will focus on making the state a digital-hub. The BJP governments in states and the Narendra Modi government at the Centre are delivering development to the last person," Amit Shah said.
The BJP promised to give Rs two lakh interest-free loans to women to start their business; to distribute free books and uniforms to students till Class 12; formation of journalist welfare board and to build film city in the state among others if voted to power.
Hitting out at the Congress for being a Maoist-sympathiser, Shah said: "The party which sees Maoism as a medium for revolution can never do welfare for the state."
Rahul Gandhi visits Gurudwara 
Meanwhile, Congress president Rahul Gandhi visited a gurudwara in Rajnandgaon on the last day of campaigning for first phase elections in Chhattisgarh and offered prayers.
Rahul will also hold public meetings in Kanker and Kondagaon districts later in the day.  The Congress chief will also have a meeting with booth level workers at Jagdalpur. 
The Congress, in its manifesto, has made a number of promises including loan waiver for farmers, halving the electricity tarrif and providing 1 lakh jobs to the youth besides giving them unemployment allowance. 
The first phase on November 12 will see 18 seats of eight Naxal-affected districts go to polls. Of these, 12 are Scheduled Tribe seats while one is a Scheduled Caste-reserved seat.
The ruling BJP had lost 12 of the 18 seats in the 2013 Assembly polls. The remaining 72 constituencies will witness polling on November 20 and counting of votes will be held on December 11.
A total of1,291 candidates are in the fray for the two phased state polls. In the 2013 Assembly polls, the BJP had won 49 seats, Congress 39, BSP 1 and Independent 1 in the 90-member House.