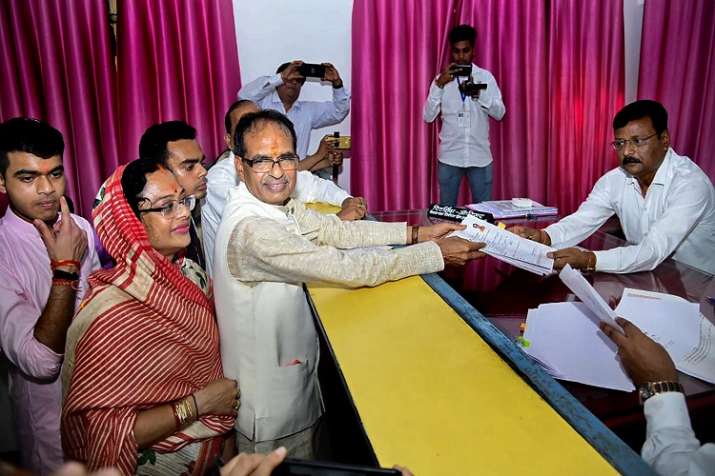 The ruling Bharatiya Janata Party in Madhya Pradesh led by Chief Minister Shivraj Singh Chouhan may get a reduced majority in the forthcoming assembly elections, a second opinion poll conducted for India TV by CNX predicts. 
In the 230-seat assembly, BJP may win 122 seats, while the main opposition party Congress may win 95 seats, Bahujan Samaj Party may win three seats, while 'Others' may win ten seats. 'Others' include Gondwana Ganatantra Party, Samajwadi Party, Left Front and Independents.  
IndiaTV-CNX Madhya Pradesh 'final' Opinion Poll: Highlights
In the last assembly polls in 2013, BJP had won 165, Congress had won 58, BSP had won four, and 'Others' three seats. Polling in Madhya Pradesh will be held on November 28 and the results will be announced on December 11.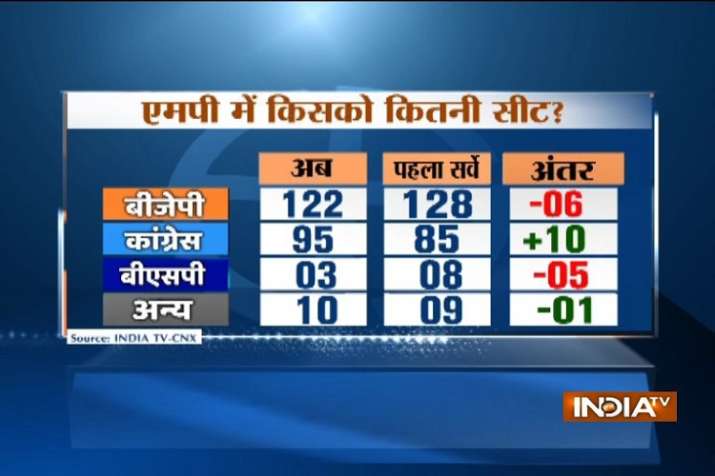 IndiaTV-CNX Madhya Pradesh Opinion Poll: Key takeaways
1) The pre-poll survey shows in Chambal region having 34 seats,  BJP may win 14, Congress 15, BSP one, Others four seats. In Malwa-Nimar region, having 72 seats, BJP may win 42, Congress 26 and Others four seats. 
2) In Baghelkhand region having 52 seats, BJP may win 26, Congress may win 23, BSP two and Others one seat. 
3) In Bhopal region, having 22 seats, BJP may win 13 and the Congress may win nine seats. In the Mahakoshal region having 50 seats, BJP may win 27 seats, and the Congress 22, leaving one seat to Others.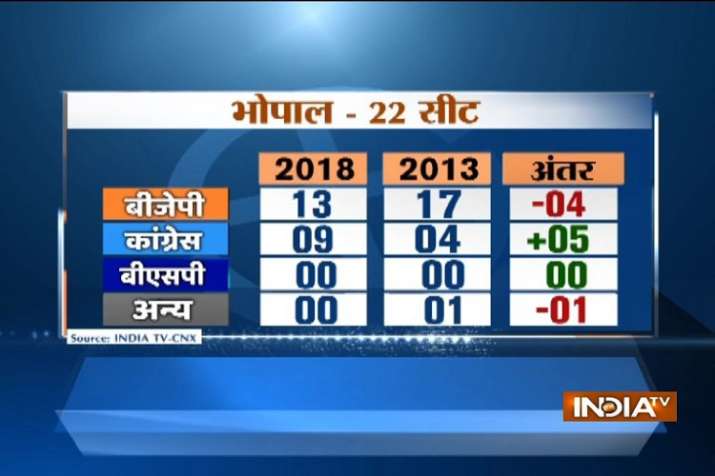 4) Vote share wise, BJP may get 41.75 per cent, Congress may get 38.52 per cent, BSP may get 5.41 per cent, and 'Others' may get 14.32 per cent votes. 
5) In the 2013 assembly polls, BJP had got 44.88 per cent and the Congress had got 36.38 per cent votes. This represents a 2.38 per cent downward swing in vote share for BJP, says the pre-poll survey. 
6) As far as the most favoured chief minister is concerned, IndiaTV-CNX Opinion Poll shows Shivraj Singh Chouhan to be on top. Over 40 per cent people want Chouhan as the CM, while Congress leader Kamalnath is favoured by 20.32 per cent, his popularity had dipped by 1.87 per cent. On the other hand, 19.65 per cent people want Jyotiraditya Scindia as the CM. Scindia's was rated as best CM by 18.08 per cent people in the previous IndiaTV-CNX Opinion Poll.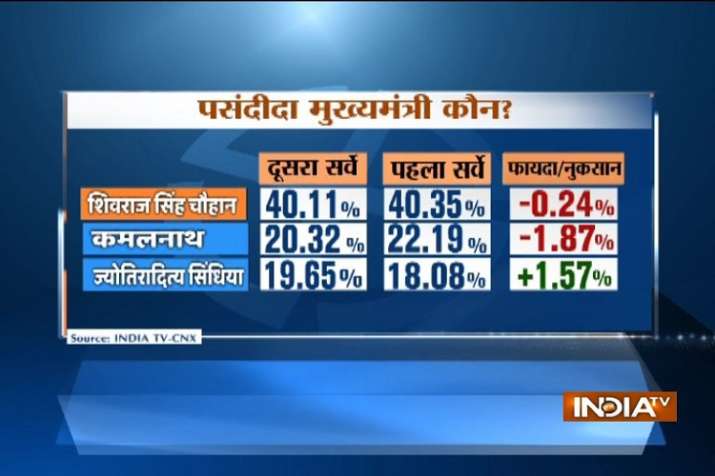 The India TV-CNX pre-poll survey was conducted on 9240 men and women in the age group 18-60 years through a structured questionnaire. The survey team visited 77 out of 230 assembly constituencies and the respondents were selected randomly keeping in view demographic, professional and migration dimensions. The results are subject to a margin of error of 2.5 per cent. The second opinion poll was conducted between October 25 and November 3.
WATCH: BJP may retain power in MP but Congress to improve its tally, shows IndiaTV-CNX Opinion Poll