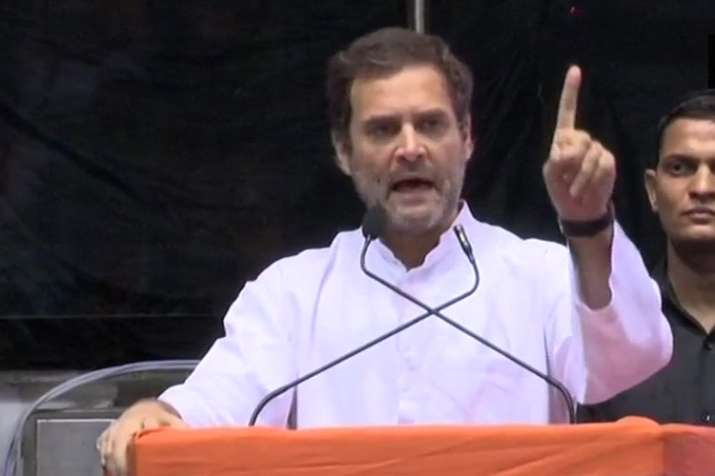 Congress president Rahul Gandhi on Tuesday alleged that "minions" of the "Supreme Leader" were trying to silence those reporting on the Rafale scam and threats, blackouts, sackings and advertising cuts were taking place to prevent the truth from being told.
"Threats. Channel Blackouts. Sackings. Advertising cuts. Anything to prevent the truth being told. Satyamev Jayate," he said on Twitter.
Gandhi had raised the issue of the Rafale fighter aircraft deal during his address at the Congress Parliamentary Party meeting in the morning as well. 
Catch all the latest news about Lok Sabha elections 2019 HERE
Dubbing the Rafale deal "corruption of the century", he said Prime Minister Narendra Modi came to power on the claim that he would wipe out corruption in the country and provide a very clean government. 
But the Rafale scam, involving over Rs 1.3 lakh crore of public money, "designed to bail out debt-ridden corporate cronies of Modiji is symbolic of the true 'sanskar' of this government – 'Raam Naam Japna, Paraya Maal Apna'," he told Congress MPs.
Gandhi had earlier, too, taken a swipe at Modi, saying his "minions" were threatening journalists not to report on the "Rafale Scam".
The Congress chief also lauded media persons who have the guts to defend the truth and stand up to "Mr 56".
"I'm really proud of the few brave press people who still have the guts to defend the truth and stand up to Mr 56," he had said in a tweet.
Gandhi's dig at Modi came over his "56-inch chest" remark made during the last Lok Sabha elections to tackle Pakistan and China.
Gandhi and his Congress party have been attacking the government on the Rafale issue, alleging corruption in the fighter aircraft deal and thus a scam. 
Just months before the Lok Sabha elections 2019, Congress party has escalated its attacks on the Modi government at the Centre.