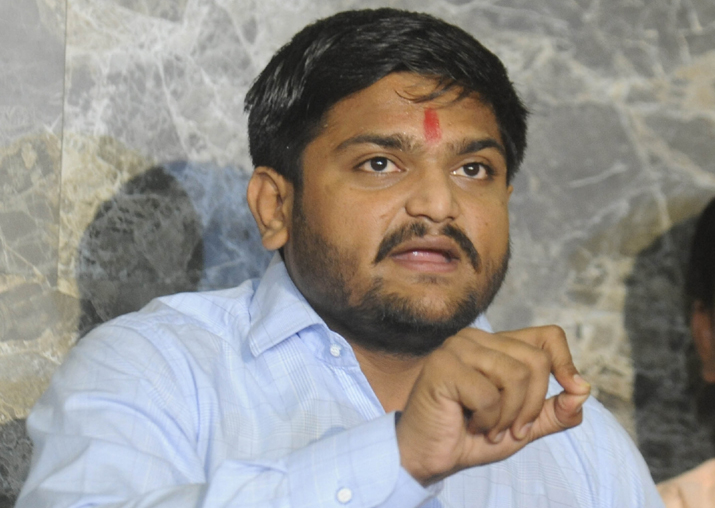 The Gandhinagar police has filed charges against Patidar leader Hardik Patel and six others for disturbing peace and breaking the law by holding a rally at Mansa despite not being given permission.
"We have filed charges against Hardik Patel, Dharmesh Patel, the proprietor of Umiya decorators who was the organizer of the rally at Mansa, and five others for holding the rally despite the district administration not giving them permission," Gandhinagar Superintendent of Police (DSP), Virendra Singh Yadav, said.
"We will be acting against the persons involved in the violation of law," the Gandhinagar SP added. 
The police has filed charges against Hardik Patel and the others under the Indian Penal Code clause 188, for disobeying the administrative order.
The Patidar Anamat Andolan Samiti (PAAS) leader has been holding protest rallies across the state since the past two years, including at many places without the government or the local authorities granting permission. Till date neither Hardik Patel nor his aides or other members have been charged on that account.
The PAAS group had convened a mega rally on Saturday at Mansa, the native village of BJP national president Amit Shah, as part of a series of protest rallies against the state's ruling BJP. Before the rally Hardik Patel had indicated he would "drop a big bomb" in the form of some revealing news that would shake the BJP, but he failed to do so.
Ignoring the police warning, he and his supporters carried out a massive rally in the chilly wintry night on Saturday. 
"The police action will only come after the elections are over. The state government cannot dare to lay their hands on Hardik, as it would adversely affect them in the elections. As soon as the elections are over, they will carry out the necessary action," said a political observer. 
The Election Commission of India (ECI) is also keeping a close watch on the speeches of Hardik Patel and also video recording his public meetings. The EC will initiate action if they find it violating the Model Code of Conduct (MCC). The Chief Electoral Officer (CEO), Gujarat, BB Swain said, "We will also be monitoring the money spent on Hardik's rallies where he is joined by any political party candidate."