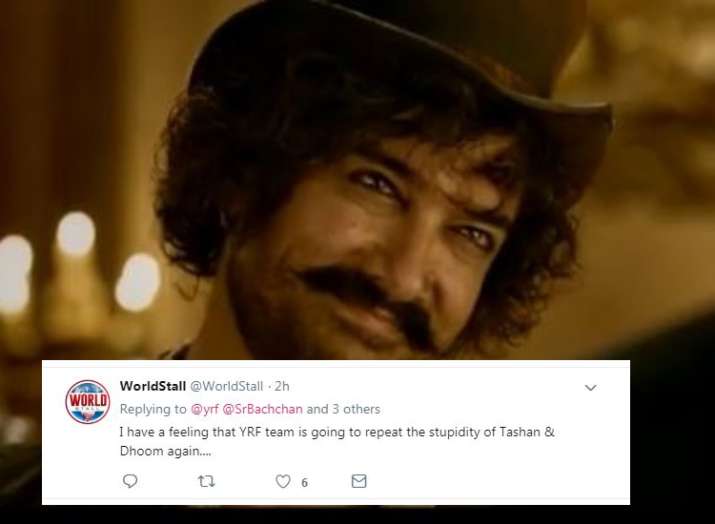 All the fans who were jumping with excitement for the trailer of this year's most awaited film, Thugs of Hindostan, can finally relax and enjoy as the trailer has dropped on the internet and it is nothing but pure adrenaline rush. From Amitabh Bachchan's terrific portrayal of a Samudari Lootera to the biggest con Aamir Khan, fans are going gaga about everything in the trailer. Aamir Khan unveiled the trailer with a social media post saying "Here come the Thugs! Its a big day for all of us. Missing Yash ji. Wish he was here with us.  I hope that TOH will make your Diwali a fun and enjoyable ride!". On YRF's backbone Yash Chopra's 86th birth anniversary, the makers came out with the trailer and it met almost everyone's expectations.
While many could not hold the excitement to watch the movie now, a major part of the Twitterverse is highly disappointed with the 3 minutes 38 seconds long video. A Twitter user even said, "Let's make indian version of State of Grace with pirate backdrop add some deshbhakti ka masala and yup Thugs is ready..."
Here is the verdict Twitterati has for Amitabh Bachchan and Aamir Khan starrer Thugs of Hindostan trailer. Have a look at the tweets-
pirate of the caribbean best of Luck desi Version 😋🤣😂#ThugsOfHindostanTrailer #TOHTrailer #JhonyDeep @aamir_khan poor acting.... Same story... Last Line Story enemy nd friends k sath mil jao..... 😋🤣😂

— Saim khan (@Saim1Tiger) September 27, 2018
Indian version of Pirates of the Caribbean?! Even vfx are copied same as 15 yrs old movie.

— Mohammed Rafeeq (@rafeeq_km) September 27, 2018
Let's make indian version of State of Grace with pirate backdrop add some deshbhakti ka masala and yup Thugs is ready...

— Prateek Kumar (@Prateekchem2k2) September 27, 2018
I have a feeling that YRF team is going to repeat the stupidity of Tashan & Dhoom again....

— WorldStall (@WorldStall) September 27, 2018
Nah....The trailer was underwhelming. Cgi was abysmal. Although it probably will earn buttloads of money, but damn what a shame it'll be.

— Abhi_Man (@Abhi_Nahi_Shake) September 27, 2018
Disappointment..
Not even a single word from #KatrinaKaif & @fattysanashaikh in the trailer.
Mr. @SrBachchan is looking promising..
What you say @BeingNikhilGera

— Ankit Dureja (@iankitdureja) September 27, 2018
Dhoom 3 jaisa haal na ho bas

— Pratik Dashputre (@pratikdashputre) September 27, 2018
On the other hand, there were also people who were blown away by the trailer and called it Amitabh Bachchan's best performance till date. Let's face it- When Senior Bachchan makes an appearance onscreen, it is hard to focus on anyone else. Have a look at the tweets-
It's the baap of all trailer @SrBachchan @aamir_khan
character is amazing#ThugsOfHindostanTrailer

— Chowkidar Pritam Niwas (@PritamNiwas) September 27, 2018
Trailer Impressive. Production Value is very good. Amitabh Entry and Voice is Magical. Aamit journey from Kamina to DeshBhakt will be emotional. Katrina will be a joke...again. But why such shit VFX in post Baahubali world? This z lyk cartoon! 😆#ThugsOfHindostanTrailer pic.twitter.com/RpuuBLxuBM

— Primal Alpha Chowkidar (@primal_alpha) September 27, 2018
Mazaa..Aayega.....! 😃😃

— Ajesh.B. Khatik (@ajesh_khatik) September 27, 2018
The most amazing trailer i have ever seen 👏💕💕

— lolo⛄⛄ (@iamlollaa) September 27, 2018
Movie Of The Year 🔥🔥🔥
IT Will Become First Bollywood Movie Cross 400 Croor ...
Aamir And Amit Best And Greatsts Indian Actors All The Time

— AbduLrahman Hassan (@Bulshowade) September 27, 2018
Thugs Of Hindostan, produced by Yash Raj Films and directed by Vijay Krishna Acharya, is based on an early 19th century bestselling novel about the Kali-worshipping Thuggee or Thug cult, a subject that has been tackled often by Hollywood in films such as Gunga Din and Indiana Jones And The Temple Of Doom.
For latest stories breaking the internet, check out our BUZZ section!