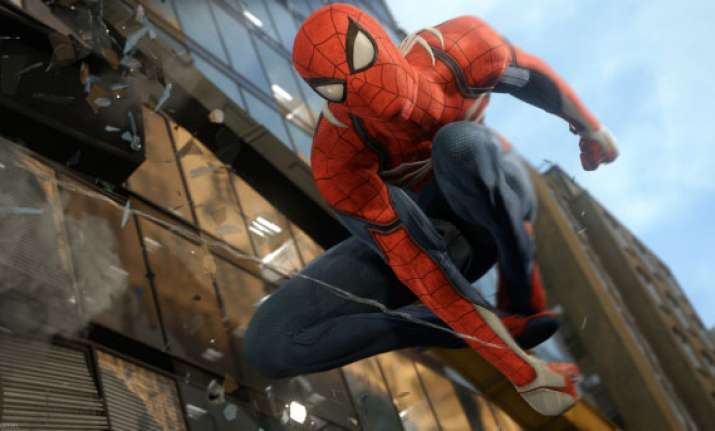 All the Spiderman fans should've been on the Boston metro train to witness the superpowers of their favourite Marvel superhero. It happened on MBTA, when a friendly-neighbourhood Spiderman appeared and was seen commuting around the city during the evening. A short video is doing rounds on Twitter which shows the man dressed as a Spiderman hanging upside down from a railing on a Green Line train and easily scrolling through his phone. A similar video was captured by a Reddit user on orange line as well.
The comic book hero was then seen crouching on the platform of a metro station waiting for his train to arrive. He was also wearing stylish red running shoes and had a backpack on his back.
Just another day on the #MBTA. pic.twitter.com/utdaorVi9q

— Ashley Armstrong (@ashunderwater) May 16, 2018
So, is the Spiderman inspecting the city to protect it from the treacherous motives of Sandman and Mysterio?
The purpose of who and why remains unknown. However, the 'hanging' Spiderman has left the Internet in a frenzy. Some people took to Twitter to share this interesting incident and share their thoughts on the same.
A user tweeted a video of the masked superhero checking a smartphone while hanging upside down on a train, "Just another day on the #MBTA."
Another user posted a picture of the guy on the platform and wrote," Even #SpiderMan takes the @MBTA."
Even #SpiderMan takes the @MBTA pic.twitter.com/xcZrEHZsox

— Jeff Monaco (@jeffmonaco518) May 16, 2018
Another one wrote," How is he using his phone??? Spidey cosplayers know that struggle all too well. Myself included."
How is he using his phone??? Spidey cosplayers know that struggle all too well. Myself included. 😂

— Matthew Vlossak (@MatthewVlossak) May 17, 2018
From one Spidey to the next, keep at it bro! Are you part of the Spidey Society Facebook forum? Here's my suit. Repping PS4 too 🙌🏻 pic.twitter.com/s910Gwo6tK

— Matthew Vlossak (@MatthewVlossak) May 18, 2018
My suit doesn't allow me to use my phone for like...the first 15 mins? Then it starts to work. Idk how to explain it. Only thing I can think of is temp?

— Merciless Indian Savage (@iMisplacedIt) May 18, 2018
#Spider-man @mbta riding the orange line pic.twitter.com/aVr2wp9VmZ

— Jedrek Lander (@JedrekLander) July 31, 2015
@SpiderMan #SpiderMan #MBTA saw him at #QuincyCenter #webs everywhere #LOL pic.twitter.com/hYwSM2ntk1

— Jedrek Lander (@JedrekLander) April 13, 2017