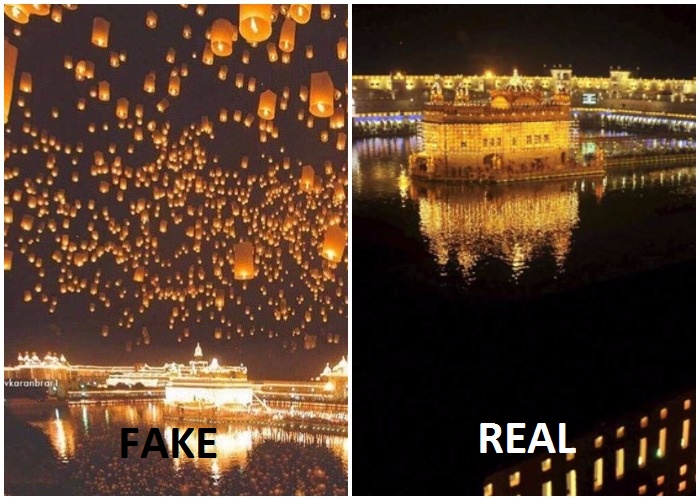 Amitabh Bachchan as we know, is very fond of social media. He never fails to update his fans about every little update of his life on Twitter and his blog. And so, on Diwali, he shared a picture of Golden Temple on Diwali. No doubt, the picture is looking mesmerising with hundreds of sky lanterns hovering over the holy premises of the temple. He captioned the picture as 'Divine' and its certainly looking no less than divine. But unfortunately, it's nothing but another internet hoax that keeps on circulating on this massive expanse of World Wide Web. 
this is simply DIVINE ... !! https://t.co/R5DiAsMzOp

— Amitabh Bachchan (@SrBachchan) October 20, 2017
Absolute Heaven🌹Golden Temple, Amritsar. No fire works but lanterns in the sky reflected in the sarovar surrounding the Gurudwara @hvgoenka🌹 pic.twitter.com/Nmqxdtu4cb

— Jaspreet Singh (@Jaspreet68BJP) October 20, 2017
You might have received this picture on your WhatsApp by now and even you've already given out a sigh of amazement. However, many netizens are bringing it to attention that the image is heavily photoshopped. The man behind this photoshopped image himself came to front and accepted that the image was edited. He said that he created the image for art and not with an intention to fool anyone. 
It's a photo-shopped image... pic.twitter.com/5c3GlOQ39R

— राजेश केजरीवाल (Rajesh Kejriwal) (@raj20k) October 21, 2017
#HappyDiwali2017 #goldentemple picart by me
If you are going to post this then please give proper credit🙏🏼#amritsar
(Copyright) pic.twitter.com/NkiCvUfVCh

— Navkaran Brar (@BrarNavkaran) October 20, 2017
Overall work is by me 🙏🏼 not by someone else & yes it's editing & not real I've created art not made fool of anyone , thnx🙏🏼😊

— Navkaran Brar (@BrarNavkaran) October 21, 2017
Here's the real image of Golden Temple on Diwali: 
Thus, before you share an image on social media out of excitement, use your mind and check twice.