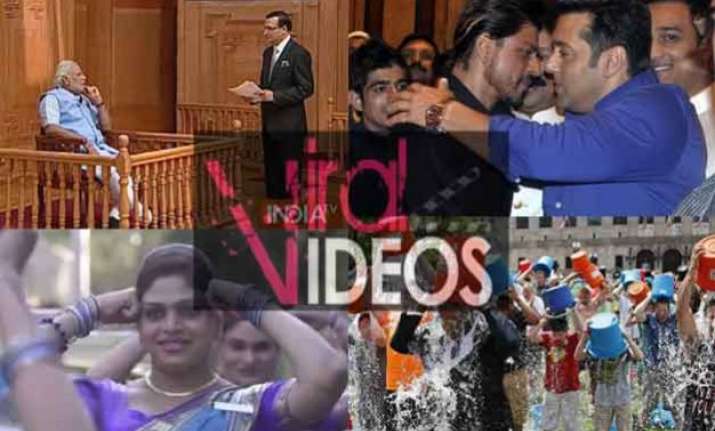 If your memory is alike the Delhi weather, which is little foggy, you might not remember what all happned in the 365 days of the year 2014.
The year has witnessed its shares of ups and downs, as there were - happy moments, crazy moments, inspiring moments and tragic moments as well. But all in all it was worth an year to remember & relive at least once, as now we are in 2015.
Here are Top 10 viral videos of India in 2014...
1. Narendra Modi in 'Aap Ki Adalat'
When, then Gujarat CM and BJP's Prime Ministerial candidate Narendra Modi made an appearance in Rajat Sharma's show Aap Ki Adalat, it turned out to be a blockbuster.
The episode broke all the TRP records and became viral sensation of the year 2014.
2. Are You Serious
Robert Vadra's "Are You Serious" was one of the most viral incidents of the political arena. You've got to see how Mr. Vadra reacted when a new reporter questioned him on land deal scams.
3. Seatbelt Crew
This innovative video by Seatbelt Crew, which showcased transgender in a real new avatar became a viral thing for all the good reasons.
Third sex teaching traffic rules to commoners is a must thing to watch.
4. Shah Rukh and Salman hug at Iftaar Party
It was an epic moment of 2014 when two Khans - Shah Rukh and Salman hugged each other at Iftaar party thrown by Baba Siddiqui.
The incident of friends-turned-foe hugging each othet had garnered much hype from the media, Khan Fans and the entire bollywood fraternity.
5. Brave 'Rohtak' sisters
Initially looked like an act of bravery, these two sisters garnered much attention for beating the guys who eve teased them, and the video went viral.
But, later when the truth behind the video came to light, voice for severe punishment to these two girls raised.
6. Doordarshan anchor
Doordarshan received severe criticism for its anchor's low IQ quotient as she was reporting at Goa Film Festival.
The video went viral on social media resulting in job-loss for the pity anchor.
7. 21 years of Aap Ki Adalat!
Aap Ki Adalat made history by becoming the longest running TV show, i.e. 21 years.
The epic moment – 3 Khans on one stage was the biggest highlight of this event.
8. Every Delhi Girl
This epic video was a treat for every Delhi girl, as she could identify with the instances showcased in this.
From accent to attitude and dressing to gratitude, the video touched each & every aspect of Delhi girls' lives with she.
9.  Ice Bucket Challenge
The fever gripped the Indian celebs as they started posting videos of pouring bucket filled with ice over them. It buzzed the video world for quite a long time.
Here is Akshay Kumar with the Ice Bucket Challenge.
10. Barely Speaking with Arnub
It was amazing to see how Bollywood's King Khan got brutally grilled by Arnub in his show. The video shoot was a barely speaking affair for the actor who is famous for his dialogue delivery.