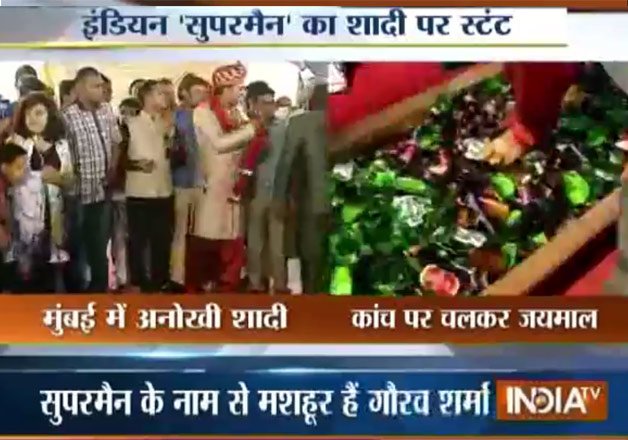 New Delhi: Weddings in India are not just a one day affair. In fact it's a week long celebration, with the families of the bride and grooms planning for days in advance.
With so many cultures prevailing in India, one has an option to choose which type of wedding one wants to have. After all everyone has his /her dream for the big day.
But recently an Indian groom left everyone shocked during his wedding ceremony after he chose to walk 25 feet over crushed glass bottles barefoot to marry his bride.
Yes! You read that right. This actually happened and the man who did it is Gaurav Sharma.
Gaurav, popularly known as Indian spiderman, is quite famous for his love for stunts. He has climbed multi story buildings of the city without any external support, using just a safety line made of rope wrapped around his waist.
And this time, he thought to perform some stunts on his D-Day to make his special day more memorable.
While he walked on crushed glass bottles, his bride was unaware of his performance and was left completely shocked seeing him doing the unimaginable.
Here's the video: