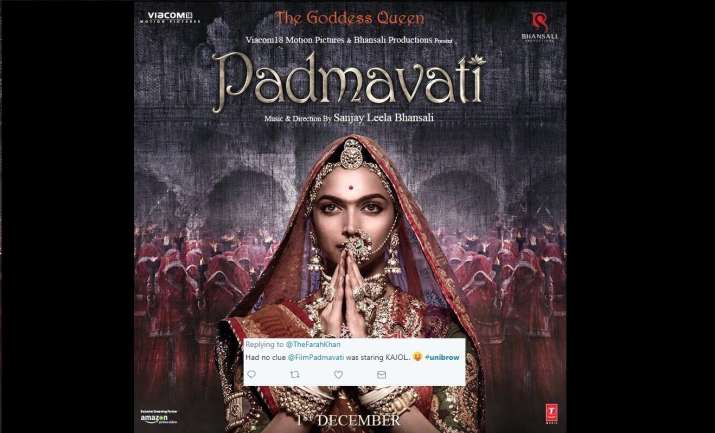 Sanjay Leela Bhansali chose the just right timing to reveal Padmavati's first look. With the beginning of auspicious festival of Navratri, makers of Padmavati revealed their first look at the sunrise. The poster of Padmavati shows Deepika Padukone in her most regal avatar. Dressed in traditional Rajasthani ensemble, the actress is winning over the internet for her surreal beauty. It's the second time for Deepika Padukone to be playing a warrior queen in movies, last being Bajirao Mastani. But this time, she broke her own records. 
देवी स्थापना के शुभ अवसर पर मिलिए रानी पद्मावती से #Padmavati @FilmPadmavati pic.twitter.com/hYJonZCEEH

— Deepika Padukone (@deepikapadukone) September 21, 2017
While the fans can't stop gushing over Deepika Padukone's Rani Padmini avatar, a section of Twitterati are stuck over her 'unibrow'. Yes, you heart it right. You might need to have a second look of the poster to spot it. Apart from the praises she got for her royal attire and jewellery, we stumbled upon several tweets which couldn't stop focussing on Deepika's unibrown in the film. In fact, a section of Twitter is busy discussing her unibrow like it's the most important aspect of the Sanjay Leela Bhansali film. Crazy world, we must say! 
#Padmavati @FilmPadmavati pic.twitter.com/MenI9N7qFz

— Deepika Padukone (@deepikapadukone) September 21, 2017
Have you ever seen @deepikapadukone with unibrows ? #Padmavati

— BhansaliProductionsFC (@bhansaliprod_fc) September 21, 2017
If we take a moment to think about it, I think it's appreciative of Padmavati's makeup team, which kept her look as real as it can get. 
"Deepika sports little to no makeup and will be seen with a unibrow. Her look has been kept true to the period." #Padmavati

— Deepika Padukone FC (@DeepikaPFC) September 20, 2017
Some even dragged Kajol's name in the unibrow tweet threats. Kajol is also trolled on internet for having unibrow during her early days in Bollywood. 
Rani Padmati shod have been played by Kajol. Would haved saved make up costs. #unibrow

— Ananya Mukherjee (@ananyaxym) September 21, 2017
Had no clue @FilmPadmavati was staring KAJOL.. 😛 #unibrow

— Akshay Patil (@maddy_4_All2006) September 21, 2017
It's true that it takes an ethereal beauty like Deepika Padukone to look gorgeous even in unibrow. 
First Look of #Padmavati.
Splendid detailing.
And we have our first heroine to officially sport #unibrow and with such grace. pic.twitter.com/8YuIxQrgEL

— CinemaandbeyonD (@CinemaandbeyonD) September 21, 2017
Is unibrow trending yet? Let's make #unibrow happen 👊 #Padmavati #PadmavatiFirstLook

— Ash (@kaninewest) September 21, 2017
This #unibrow look is brilliantly gorgeous @deepikapadukone @preetisheel #Padmavati https://t.co/GSkKXB78Oo

— kankana (@KankanaLohiyaa) September 21, 2017
@FilmPadmavati
Not sure about the #unibrow though. But definitely bol#PadmavatiFirstLook @deepikapadukone

— Amrutha Halugodu (@amruthahere) September 21, 2017
Is it just me or Deepika Padukone does seem to have a unibrow in the first look of #Padmavati? #PadmavatiFirstLook

— Apoorv Saxena (@Dastanagoi) September 21, 2017
Though, her unibrow didn't go quite well with some of the Twitterati. 
the unibrow on padmavati aka deepika looks horrid. why they do this? she looks dazzling otherwise

— Nadhiya Mali (@nadhiyamali) September 21, 2017
Yesterday, the makers launched the logo of Padmavati on Twitter. The announcement of the poster was made in a royal way. The makers wrote: रानी पद्मावती पधार रही हैं… कल सूर्योदय के साथ. (Rani Padmavati is coming tomorrow with the sunrise). 
The poster of the film was shared a little before 7 am. After seeing Deepika Padukone's look for Padmavati, we couldn't wait to see how Ranveer Singh and Shahid Kapoor will be looking as Alauddin Khilji and Raja Rawal Ratan Singh respectively. The film is slated to release on 1st December, 2017.