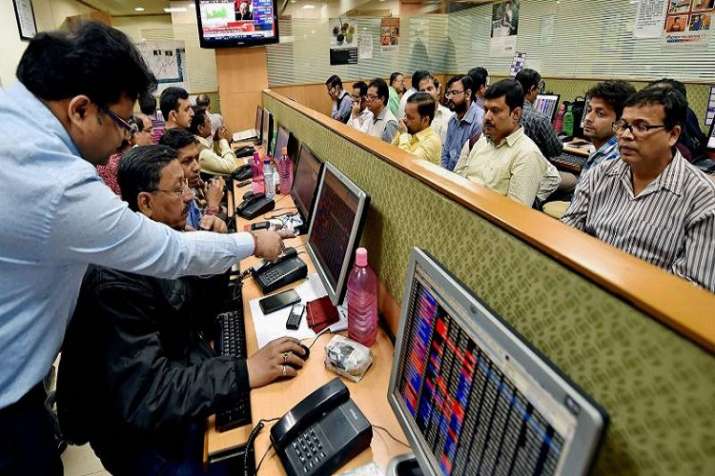 Indian shares finished sharply higher on Wednesday as investors took the RBI rate hike decision in their stride.
After maintaining status quo for four straight meetings, the Monetary Policy Committee of the Reserve Bank of India today lifted the repo rate by a quarter percentage point to 6.25 percent from 6.00 percent, while maintaining its neutral stance.
The committee reiterated its commitment to achieving the medium-term target for headline inflation of 4 per cent on a durable basis while retaining GDP growth outlook for 2018-19 at 7.4 per cent.
A strengthening rupee and positive trend in global markets further bolstered sentiment, said the brokers.
The BSE Sensex, which opened strong at 34,932.49, fell immediately after RBI's policy announcement but soon recovered to touch the day's high of 35,230.54. It finally ended at 35,178.88, up 275.67 points, or 0.79 per cent. The gauge had lost 419.17 points in the previous three sessions. 
On similar lines, the NSE Nifty, after shuttling between 10,698.35 and 10,587.50, finished 91.50 points, or 0.86 per cent higher at 10,684.65. 
Globally, other Asian markets finished mostly higher as higher commodity prices lifted resource stocks and the Japanese yen weakened on solid U.S. non-manufacturing activity data released overnight.
European stocks were broadly higher, although the upside remained capped somewhat amid concerns that big spending plans and other changes proposed by the new coalition government in Italy will increase the country's debt burden.
Meanwhile, domestic institutional investors (DIIs) bought shares worth a net Rs 474.33 crore, while foreign portfolio investors (FPIs) sold equities to the tune of Rs 157.51 crore yesterday, as per provisional data. 
Telecom stocks were the session's standout performers. The BSE Telecom index rose the most among sectoral indices, while Bharti Airtel topped the Sensex gainers list, surging 4.55 per cent.
 
Other gainers in the Sensex pack were Tata Motors 3.56 per cent, Sun Pharma 3.21 per cent, Coal India 1.98 per cent, Bajaj Auto 1.78 per cent, Wipro 1.57 per cent, M&M 1.42 per cent, Tata Steel 1.36 per cent, ITC Ltd 1.23 per cent, Hero MotoCorp 1.20 per cent, Infosys 1.18 per cent, L&T 1.17 per cent, Power Grid 1.03 per cent, NTPC 0.78 per cent, Maruti Suzuki 0.69 per cent and RIL 0.59 per cent. 
However, ONGC, Asian Paints, HDFC Bank and ICICI Bank lost up to 0.47 per cent. 
Sugar stocks continued their upward journey after the Cabinet today approved a Rs 8,500 crore bailout package for the industry. 
Uttam Sugar Mills rose 1.54 per cent, Avadh Sugar and Energy 0.53 per cent and Bajaj Hindusthan Sugar 0.71 per cent on BSE. 
All sectoral indices closed in the green. Telecom gained 3.02 per cent, consumer durables 2.32 per cent, metal 1.72 per cent, auto 1.57 per cent, realty 1.47 per cent, power 1.45 per cent, capital goods 1.41 per cent, PSU 1.26 per cent, healthcare 1.20 per cent, teck 1.20 per cent, FMCG 1.12 per cent, IT 0.97 per cent and bankex 0.57 per cent. 
The rally extended to the broader markets as well, lifting the small-cap index by 1.53 per cent and mid-cap by 1.28 per cent. 
In the Asian region, Japan's Nikkei ended 0.36 per cent higher, while Shanghai Composite Index gained 0.05 per cent. Hong Kong's Hang Seng also rose 0.52 per cent. 
In the Eurozone, Frankfurt's DAX gained 0.28 per cent and Paris CAC advanced 0.28 per cent in early deals. London's FTSE too was up 0.19 per cent.