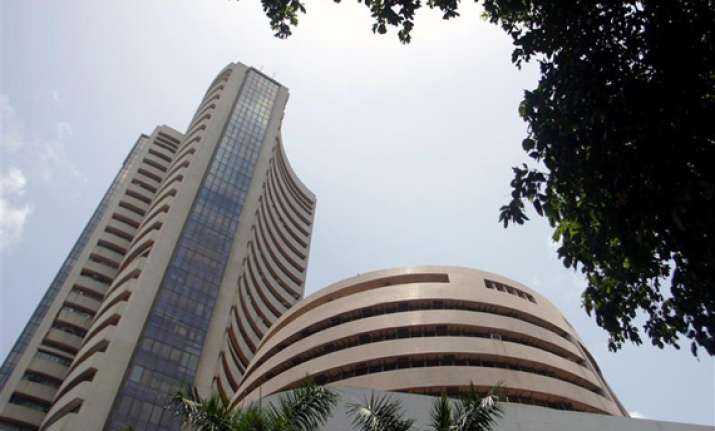 Mumbai, Oct 17: The BSE Sensex slipped 57.60 points today to 17,025 as investors booked profits in heavyweights like RIL and TCS, despite a firm trend in global equities.

The country's most valued company, petro-chem giant RIL, which gained 8.15 per cent last week, fell 3.88 per cent although its second quarter earnings - announced on Saturday - were only slightly below expectations. Its net profit grew nearly 16 per cent in Q2.

However, RIL has said that its Krishna-Godavari Basin D6 gas fields have seen a sharp drop in production "mainly due to reservoir complexity".

Besides, brokers said that reports of CLSA - a brokerage and investment group - downgrading RIL scrip to "outperform" from "buy" hit market sentiment.

RIL alone has over 10 per cent weight on the BSE 30-share benchmark index, Sensex, and was the major drag on the market.

Another heavyweight, IT major TCS fell 1.30 per cent ahead of its financial results this evening. Larsen & Toubro too was down 1.98 per cent.

However, gains by Tata Motors, ICICI Bank, HDFC, HDFC Bank, ONGC,  Maruti Suzuki, DLF, Sterlite Ind, Bajaj Auto and Hindalco cushioned the fall.

Initially, the Sensex touched a 3-1/2-week high at 17,188.55 on firm Asian trends, but fell back to below 17K -mark at 16,928.38 before ending at 17,025.09 -- down 57.60 points or 0.34 per cent. Last Friday, it had risen by 198.77.

The NSE wide-based Nifty also declined by 14.05 points or 0.27 per cent to 5,118.25.

Besides refinery, capital goods and power sectors attracted profit-selling, while auto, consumer durables and some of the banking stocks were in demand.

FIIs turned net sellers after five sessions of buying.  They sold shares worth Rs 94.04 crore last Friday as per provisional data.

In Asia, indices in China, Hong Kong, Japan, Singapore, South Korea and Taiwan closed with gains of between 2 per cent and 0.37 per cent.

European markets made gains initially, but were trading slightly lower in the afternoon. The CAC and the DAX were quoting lower while the FTSE was up 0.45 per cent.

Back home, 17 of the 30 Sensex scrips closed with gains, while others settled with losses.

Other major losers were NTPC (2.63 pc), Jaiprakash (2.17 pc), BHEL (2.11 pc), L&T (1.98 pc), Wipro (1.76 pc), Sun Pharma (1.50 pc), TCS (1.30 pc) and Bharti Airtel (1.22 pc).

However, Tata Motors rose by 4.50 per cent and was the top gainer from Sensex group. Maruti was up 2.39 pc, DLF (1.53 pc), Sterlite (1.51 pc), Bajaj Auto (1.27 pc), Hindalco (1.13 pc) and ONGC (1.07 pc).

Amongst sectoral indices, BSE-Oil&Gas dropped 2.29 pc, Capital Goods 1.37 pc and Power 1.18 pc, while Auto firmed up 1.58 pc and Consumer Durables by 1.50 pc.

The total market breadth on the BSE was negative as 1,432 stocks concluded in the red, while 1,320 that finished in the green. The total turnover rose to Rs 2,444.78 crore from Rs 2,207.75 crore last Friday.