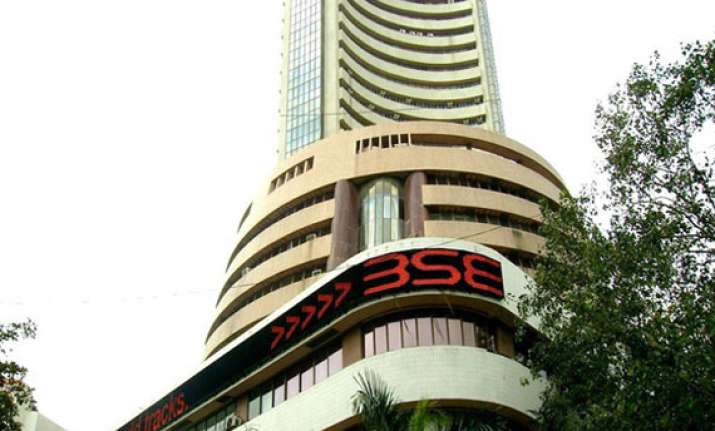 Mumbai: The benchmark Sensex fell 132 points, the most this month, dragged down by IT stocks as investors shrugged off a deal reached by US lawmakers to end the government shutdown and increase the debt ceiling.
Optimism generated after the US averted the debt crisis for a few months was tempered by the World Bank's sharply lower growth estimate of 4.7 per cent for the Indian economy.  
TCS, Infosys and Wipro were among the shares that dragged the Sensex lower on profit booking, while heavyweights ITC, Reliance Industries and ONGC supported it.  TCS had gained 15 per cent between September 30 and October 15, while Infosys rose 11 per cent in this period.  
Both companies advanced in the run-up to their second-quarter earnings.
Nine of the 13 BSE sectoral indices ended lower, led by IT and capital goods stocks. The major gainers on the index included Bharti Airtel and ONGC.
The S&P BSE Sensex, which fell for the second day, opened at 20,579.56, higher than the previous close. After touching 20,629.80, the index dropped to 20,375.42 before ending at 20,415.51, down 132.11 points or 0.64 per cent.
"Global cues were positive as US finally signed a deal to end government shutdown and thus tensions were released," said Nidhi Saraswat, Senior Research Analyst at Bonanza Portfolio Ltd. "However, profit booking led to selling pressure today."
The 50-share CNX Nifty index on the National Stock Exchange fell 43.20 points, or 0.71 per cent to 6,045.85. The SX40 on the MCX Stock Exchange closed at 12,179.29, down 49.26 points.
Overseas investors bought a net Rs 1,136.23 crore of shares on October 15, according to provisional data on the stock exchanges.
Bajaj Auto shares gained 1.92 per cent after reporting a 13 per cent increase in profit for the second quarter ended September 30.
While US stocks rose yesterday after lawmakers agreed to lift the debt ceiling, concerns remain as the deal is valid only until February.
Asian stock markets were mixed, with key indices in South Korea, Japan, Singapore and Taiwan rising, while the Shanghai Composite and the Hang Seng indices ended down. European markets were trading lower.
In the local market, 18 of the 30 Sensex shares finished lower while State Bank of India was unchanged.  The major losers were TCS (-4.98 pc), Tata Motors (-4.03 pc), Larsen and Toubro (-3.73 pc), Wipro (-3 pc) and Infosys (-2.34 pc).
The gainers included Bharti Airel (2.85 pc), ONGC (2.24 pc), ITC (1.63 pc), Reliance Industries (1.45 pc) and Hero MotoCorp (1.1 pc).
The market breadth remained negative as 1,248 shares ended with losses, 1,209 shares closed with gains and 151 ruled steady. Total turnover at the BSE was higher at Rs 1,935.47 crore from Rs 1,902,47 crore on Tuesday.