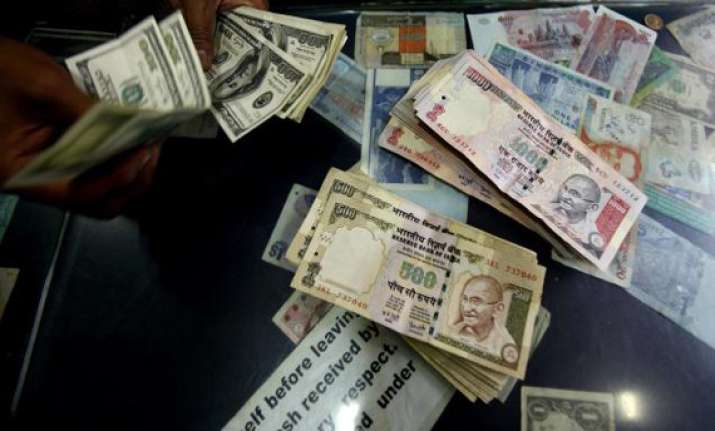 Mumbai, Feb 28: The rupee today gained 15 paise to close at 49.07/08 against the US currency on fresh dollar selling by exporters amid smart rebound in local stocks.  

Forex dealers said weak dollar overseas also aided the rupee sentiment, while renewed capital outflows restricted gains.

The local unit moved between 49.03 and 49.22 at the Interbank Foreign Exchange (Forex) market, before settling at 49.07/08, higher by 15 paise, or 0.30 per cent,than its last close.

The local currency had lost 29 paise yesterday.

Meanwhile, the BSE benchmark index Sensex rose by over 285 points to 17,731.12. Yesterday, the barometer in its steepest fall in five months had lost over over 478 points.

The dollar index, an indicator of six major rivals, was down by over 0.15 per cent while global crude oil prices was trading above USD 108 a barrel in European market today.

However, FIIs turned negative for the first time in the current month and they sold shares worth USD 110.60 million yesterday as per Sebi data.

The rupee premium for the forward dollar fell back on fresh receivings by exporters.

The benchmark six-month forward dollar premium payable in July ended lower at 159-161 paise from lasts close of 162-164 paise and far-forward contracts maturing in January also closed down at 291-293 paise from 297-299 paise.

The RBI has fixed the reference rate for the US dollar at 49.1430 and for euro at 66.0625.

The rupee also recovered against the pound sterling to end at Rs 77.73/75 from yesterday's close of Rs 78.11/13 and also rose against the euro to Rs 65.95/97 from Rs 66.00/66.02.

It also recouped against the Japanese to Rs 60.95/97 per 100 yen from previous close of Rs 61.04/06.