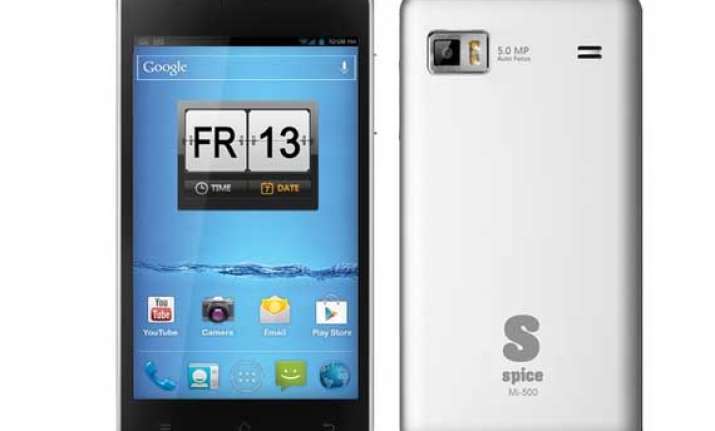 New Delhi, Nov 16: Spice Stellar Horizon was one of the first phablets to be announced by an Indian brand. However, by the time Spice launched it in the India market, most other Indian brands too came with their own 5 inch screen based smartphones with very similar specification and pricing.
The Spice Stellar Horizon has very healthy specification like a 5 inch display with 800x480 pixel resolution, 5 megapixel rear camera with flash, front camera, 1 Ghz dual core processor based chipset from Mediatek, 512 MB RAM and a 2400 mAh battery. Moreover, it is priced at Rs 12,499 which seems a little high as other Indian brands are offering such phones starting from Rs 9,999.
While specifications are healthy on paper, let's find out how it performs in real world scenario.
Display and design
Spice Stellar Horizon has a 5 inch screen with 480x800 resolution. The screen is sufficiently bright, though it appears slightly faded but only if you place it alongside a high end device; otherwise you won't feel a difference. Considering its price and the sheer size of the screen, the display is fairly reasonable.
Touch sensitivity is good too, though sometimes while scrolling, you will feel that it is opening links that you cross which is annoying. However, this problem is only pronounced when you are charging the device otherwise it is a rare thing.
Stellar Horizon is not a very slim one by current standards with 10.5 mm thickness. It has a very flat back and has rounded corners in otherwise rectangular design. We won't delve into the look aspects much and let you have a look at the device through our photographers lens, however as far as feel is concerned, it has good grip offered by the chrome strip of the phone on side and plain plastic back panel. The only drawback of the phone in terms of physical design is its weight which is 205 grams and is one of the heaviest phones currently.