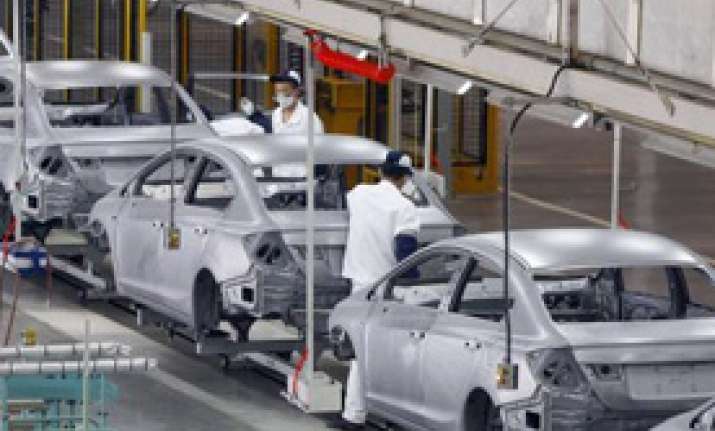 Mumbai, July 21: Japanese brokerage Nomura has revised downward the country's GDP forecast for this fiscal to 5 per cent from 5.6 earlier, saying the rupee fall and the lingering forex volatility leaves little room for RBI to cut rates this fiscal.
"Surfacing at a time of weak fundamentals, the rupee depreciation will worsen the growth outlook significantly as financial stability concerns override," it said.
"We are revising down our GDP growth forecast to 5 per cent in FY'14 from 5.6 per cent, also for FY'15 to 5.8 per cent from 6.7 per cent earlier," Nomura India economist Sonal Verma said in a note.
Pulled down by poor performance of farm, manufacturing and mining sectors, economic growth slowed to 4.8 per cent in the January-March quarter and fell to a decade's low of 5 per cent for the entire 2012-13 fiscal.
Nomura's growth forecast is one of the lowest and is on par with Germany's Deutsche Bank and other downgrades by Macquarie and Bank of America-Merrill Lynch which pegged growth at around 5.3-5.5 per cent. ADB had also trimmed its forecast to 5.8 per cent from 6 per cent in the calender year.
"While we are cognisant of the measures taken by the government and the fact that there is already excess pessimism, we do not think the economy has reached an inflection point yet and remain worried about the external sector and its macroeconomic consequences over the next nine months," Verma said in a note.
"We expect external sector concerns to remain, and hence, we now expect rates to remain on hold throughout FY'14, compared to a 50 bps cut expected earlier," it added.
A bps (basis point) is equal to 0.01 per cent.
Maintaining a negative outlook for the country in the next nine months, it said corporates would hold back capex plans, keeping in mind the forthcoming general elections.
"Given this political uncertainty and an already dismal starting position, we believe that corporates will choose the prudent option of delaying long-term capex decisions until there is more political certainty next year," it said.
"We remain negative on our outlook for the country over the next nine months due to deteriorating external finances, feedback effects from a weak rupee (and likely policy responses), a poor growth outlook and the election cycle," it added.