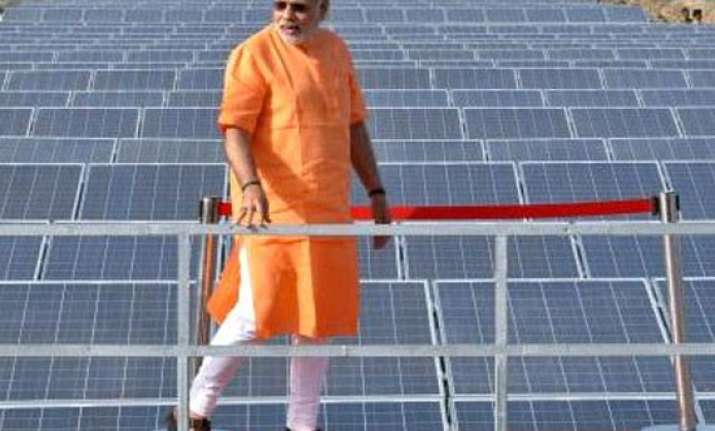 New Delhi: The first major project to be commissioned after Narendra Modi takes over as Prime Minister may be one by his pet Gujarat firm GSPC, which is ready to produce gas from a field in the Krishna Godavari basin.
Gujarat State Petroleum Corp (GSPC) has completed the $ 2 billion development of the Deen Dayal shallow-water gas field and is conducting pre-commissioning and testing activities.
Gas production is likely to start in June, sources privy to the development said.
Gujarat government-owned GSPC, which faced several technical difficulties in developing the field in the Bay of Bengal, is keeping the commissioning date under wraps.
However, sources said most facilities - both offshore as well as the onshore receipt and processing plant - are ready and first gas is expected in June, by when the gas pricing issue would have been sorted out.
GSPC last year sought to sell gas at the rate at which India imports long-term LNG (liquefied natural gas) from Qatar. At $ 100 per barrel of oil, the LNG import price comes to about $ 13 per million British thermal units.
The UPA government did not approve this rate and instead went by a formula suggested by a panel headed by C Rangarajan, under which the price of gas in this quarter should be about $ 8.3 per mBtu. The price wasn't notified due to the elections and the new government under Modi is expected to decide on the matter.
In June 2005, Modi announced that GSPC had discovered gas in well KG#8, six kilometres away from the Yanam-Kakinada coast of Andhra Pradesh.
At that time, he said it was the biggest discovery, with 20 trillion cubic feet of gas reserves, 50% more than the known reserves of Reliance Industries' KG-D6 block.
Modi named the block in which the discovery was made as Deen Dayal. Deen Dayal West, the name given to the KG#8 find, was certified to hold 1.8 tcf of reserves by the government's Directorate General of Hydrocarbons (DGH).
Sources said GSPC had planned to start production from Deen Dayal West by 2013 but the project was delayed by a year.
Initial output from Deen Dayal West is likely to be between 60 million and 70 million cubic feet of gas per day from eight or nine producing wells, which will then climb to 200 mmcfd (5.6 million cubic meters per day), they said.
Subsequent to the Deen Dayal West discovery, six additional finds were made in the block, taking the area's total reserves beyond the DGH estimate. All the finds put together have the potential to produce more than 500 mmcfd (14.15 mmscmd), once various developments are completed.
GSPC operates the block with an 80% stake, while UK-listed Jubilant and Canadian player GeoGlobal Resources each have 10%.