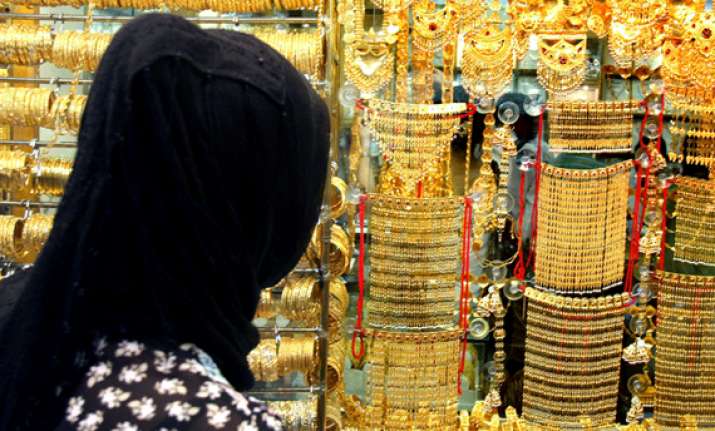 New Delhi, Oct 22: Buoyed by the ongoing festive demand and a firming trend overseas, both gold and silver extended gains in the bullion market here today. 

While gold added Rs 90 to Rs 27,030 per 10 grams, silver moved up by Rs 600 to Rs 53,200 per kg. 

Marketmen said increased buying by stockists and jewellery makers to meet the ongoing festival and marriage season demand led to the rise in precious metals' prices. 

"The demand for the precious metals is expected to pick-up further on the back of upcoming 'Dhanteras' and 'Diwali' festivals next week," a Delhi-based jeweller Rakesh Ananad said.

Besides, a firming trend in New York, where gold gained 1.4 per cent to USD 1,636 an ounce, the biggest jump since October 10, influenced the trading sentiment. 

In the national capital, gold of 99.9 and 99.5 per cent purity added Rs 90 each to Rs 27,030 and Rs 26,890 per 10 grams, respectively.

The metal had gained Rs 375 yesterday.  Sovereign held steady at Rs 22,000 per piece of eight grams.

Similarly, silver ready rose by Rs 600 to Rs 53,200 per kg and weekly-based delivery added Rs 640 to Rs 52,990 per kg.  Silver coins followed suit and spurted by Rs 3,000 to Rs 62,000 for buying and Rs 63,000 for selling of 100 pieces.