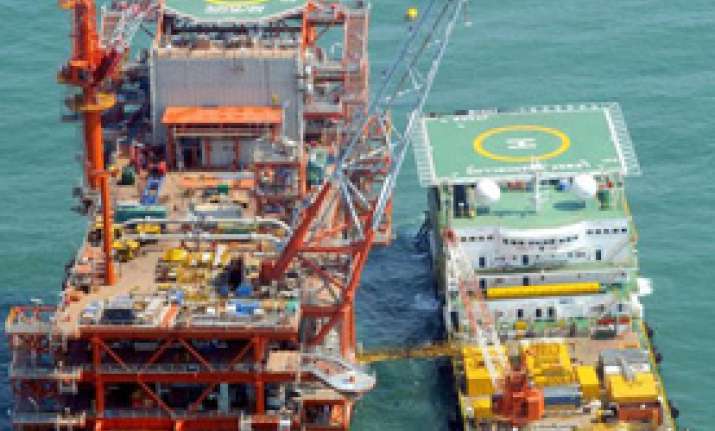 New Delhi, July 23: A high-powered ministerial panel will meet on July 25 to consider making available natural gas to fuel starved power plants from sources other than Reliance Industries' KG-D6 fields.
The Empowered Group of Ministers (EGoM), headed by Defence Minister A K Antony, was to meet on July 22 but the meeting got postponed due to bereavement in Oil Minister M Veerappa Moily's family.
The meeting has now been scheduled for July 25, official sources said here.
With KG-D6 production dropping by nearly 80 per cent during past two-and-half-years, there is no gas left for the 25 power plants that had signed up for 29.74 million standard cubic meters per day of gas with RIL.
EGoM at a meeting last week decided against diverting some of the gas currently consumed by the fertiliser sector as it would have impacted crop harvest.
Sources said alternatives like supplying untied gas of state-owned Oil and Natural Gas Corp (ONGC) to the power plants will be discussed at the EGoM meeting on Thursday.
At present, only a third of the 72 mmcmd of gas requirement of the 18,713 MW gas-based power plants is being met. Another 8,000 MW capacity is almost ready for commissioning but there is no gas availability to fire the plants.
While options like gas from new production like that of Gujarat State Petroleum Corp (GSPC) being solely dedicated to power plants are being explored, fertiliser ministry has been asked if it can spare any quantity that is unutilised in events like plant shutdowns, etc.
The EGoM meeting last week was convened to consider abolishing the priority ranking in natural gas allocation so that the fuel currently consumed by urea plants can also be diverted to fuel-starved power plants.
Currently, fertiliser plants consume all of the 14 mmscmd of gas produced from Reliance Industries' eastern offshore KG-D6 fields. No gas flows to 25 power plants that had signed up for 29.74 mmscmd of KG-D6 gas.