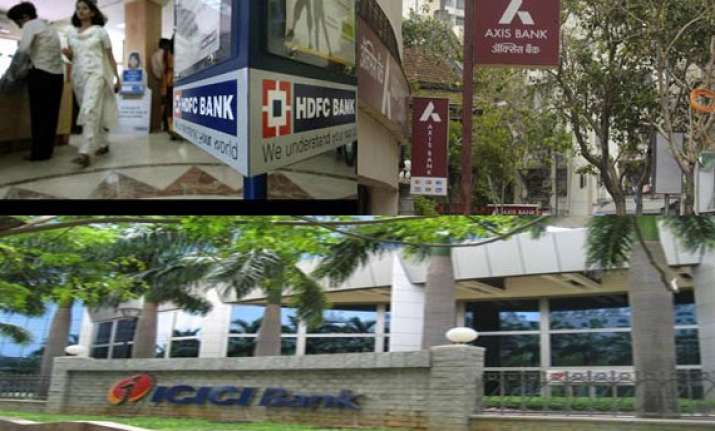 New Delhi, May 28: Income Tax department has issued notices to three top private lenders in the country - ICICI Bank, Axis Bank and HDFC Bank - in connection with alleged money laundering charges levelled by online portal Cobrapost.
The department has asked these banks to produce documents for verification as part of its tax evasion probe.
The notices have been issued under section 131 of the I-T Act (power regarding discovery, production of evidence) after going through two confidential reports submitted recently to the Department of Revenue by the RBI and the Financial Intelligence Unit (FIU), official sources said today.
E-mails sent by PTI to ICICI Bank, Axis Bank and HDFC Bank seeking their response on the development did not elicit any reply.
The aim of the department is to check suspected tax evasion by the banking institutions and possible loss of revenue by illegal acts done by authorised individuals, sources said.
Apart from production of "books of account, deposit logs and other documents" over a period of more than 12 months, the department has also asked the banks to submit the reports of their respective internal enquiries conducted in the aftermath of the Cobrapost sting operation, they said.
In some cases, sources said, senior bank officials have also been asked to remain present for "explanations and clarifications" on the subject as required by the Assessment Officer of the department.
According to sources, similar notices will be issued to various other banks and financial institutions which featured in the second episode of the Cobrapost sting.
Following the exposes by Cobrapost in March, RBI had initiated an investigation into the working of banks.
The investigation by RBI reportedly showed some bankers giving suggestions to customers on ways to bypass regulatory norms and the sting operation alleged violation of money laundering and tax laws in this process.
ICICI Bank, HDFC Bank and Axis Bank were accused of indulging in money laundering both within and outside India with Cobrapost claiming the sting operation conducted by it had revealed a scam in March.
Earlier this month, the portal accused 23 other public and private sector banks and insurance companies of "running a nation-wide money laundering racket", prompting the Finance Ministry to initiate independent investigations.
Those named in the expose include SBI, LIC, Punjab National Bank, Bank of Baroda, Canara Bank, Reliance Life, Tata AIA, Yes Bank, Indian Bank, Indian Overseas Bank, IDBI Bank, Oriental Bank of Commerce, Dena Bank, Corporation Bank, Allahabad Bank, Central Bank of India, Dhanlaxmi Bank, Federal Bank, DCB Bank and Birla Sun Life.
RBI Governor D Subbarao had said the central bank has completed investigations following the Cobrapost expose and will take action if they are found guilty of violating prudential banking norms.
"The first is action against individual institutions who are involved in practices which are not consistent with the banking regulation and prudential banking," he had said.
The central bank, Subbarao further said, has already taken systemic action to deal with the problem and many of them were announced in the annual policy document unveiled on May 3.
As far as individual banks are concerned, he said, "we got to follow procedure" before deciding on imposing penalty on them for violating the prudential banking norms.