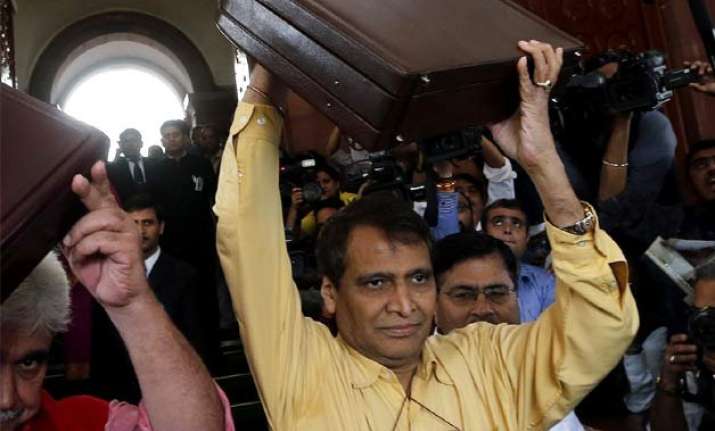 New Delhi: Railway minister Suresh Prabhu has shrugged off the criticism of his rail budget for not announcing new trains by saying that his  main objective was to focus on policy and not project announcements.
In an interview to Times of India, Suresh Prabhu clarified that railway budget is not the right occasion to make such announcements.
"Is it the job of the railway budget to do that? This is the biggest reform. De-politicization of railways will begin with this budget. What is important is the policy instead of project announcements. Nearly 90% of the speech was earlier devoted to new trains and new projects. One of my predecessors announced stoppage of trains running into several pages," said Prabhu.
ALSO READ: 11 #CelebTrains that Railway Minister Suresh Prabhu forget to talk about!
On facing criticism of plan to increase freight rates for some commodities, Prabhu said, "quantity is the real reason for which we are going to increase it because the economy is picking up. There are so many small changes we are doing so that traffic can pick up."
Earlier, after presenting the rail budget, Suresh Prabhu said that the rail budget this time includes every factor whether its safety, tourism or infrastructure.
Justifying the decision of not increasing the passenger fare, Suresh Prabhu said, "it would have been unfair to increase fare as they could not have asked commuters to pay more because we are incurring losses."
"Fuel bill has gone up due to cost of electricity. So, we are for the first time making an effort to reduce the cost of energy. We are buying electricity at Rs 7 (a unit)," pointed out Prabhu
ALSO READ: Rail Budget 2015: Full Text of Railway Minister Suresh Prabhu's speech
The minister insisted that they are focusing on building up infrastructure for which they have increased the budget to 1 lakh core and for electrification 1330% hike has been given.
"Go in for partnership with key stakeholders - States, PSUs, partner with multilateral and bi-lateral organizations other governments to gain access to long-term financing. Also, get technology from overseas. The private sector could be roped in to improve last-mile connectivity, expand fleet of rolling stock and modernize station infrastructure, said Prabhu.
ALSO READ: Fadnavis calls rail budget practical; opposition slams Prabhu
The Minister suggested that the money could be raised from multiple sources - from multilateral development banks to pension funds.
Take a look at media address by the honorable minister after the budget session…