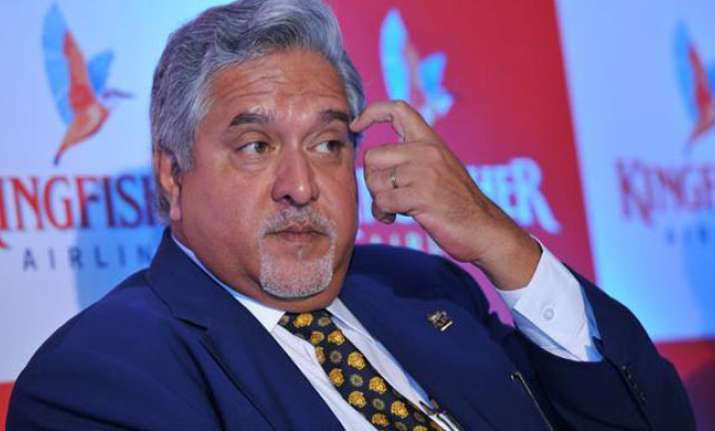 New Delhi: The Supreme Court will today hear a plea by the consortium of 13 banks led by the SBI seeking to restrain beleaguered liquor baron Vijay Mallya from leaving the country. But Mallya is believed to have left for a foreign destination a few days ago.
According to Times of India, Mallya's spokesperson said that she had no information about his whereabouts and that he was communicating only through email.
A SBI-led consortium of 13 banks moved Supreme Court yesterday to restrain Vijay Mallya from flying abroad because they feared that the founder-owner of Kingfisher Airlines may settle in London to stall loan recovery proceedings against him in India.  The plea filed through Attorney General Mukul Rohatgi told the court that Mallya had last month expressed a desire to settle in London following the Rs 515 crore deal with Diageo.
The latest development comes week after the Karnataka HC's refusal to pass an interim order restraining Mallya from leaving the country and impounding his passport. The High Court instead of passing an interim order restraining Mallya from leaving the country had asked him, Diageo Holding Netherlands BV, Diageo Holdings and United Spirits Ltd to file their objections to the banks' plea.
Another TOI report suggested that days after the Debt Recovery Tribunal (DRT) ordered British liquor major Diageo plc not to pay Mallya $75 million (Rs 504 crore) agreed as a severance package to quit its Indian arm United Spirits Ltd till the case against him before it is decided, the British giant has already paid him $40 million as part of the first tranche of his exit deal.
The next tranche of payment from Diageo, makers of Smirnoff vodka and Johnnie Walker whiskeys, is due in 2017.
Mallya had last month resigned as chairman and non-executive director of United Spirits Ltd as part of a $75 million deal with its majority holder and global liquor major Diageo plc of Britain.
Seeking the freezing of Mallya's passport, the banks have also urged the apex court to direct Bengaluru based DRT to 'expeditiously dispose of' their plea for the recovery of Rs 6,203 crores from Mallya.
Describing the High Court order declining to restrain Mallya from leaving the country as 'miscarriage of justice', they contended that the High Court by its 'impugned order has completely failed to protect' their interest as they have 'yet to recover an amount in excess of Rs 9,000 crore' from Mallya, Kingfisher Airlines, United Breweries (Holding) Limited and Kingfisher Finvest (India) Ltd.
They argued that the High Court should have appreciated that Mallya, Kingfisher Airlines and United Breweries (Holding) Ltd, have been declared as wilful defaulters and that they are currently liable to pay Rs 9,091 crore to them and non-payment of the same may adversely impact the economy of the nation.
The petition said that restraining Mallya from leaving the country was necessary to ensure his presence before the debt recovery tribunal where banks have moved for the recovery of Rs 6,203 crore.
The banks have said that the High Court ought to have appreciated that the plea for an interim order seeking the impounding Mallya's passport was very urgent as if he was to succeed in moving away from India and settling in London then the purpose of the entire exercise would be defeated.
It said that Mallya and United Breweries (Holding) Ltd executed a corporate guarantee and personal guarantee on December 21, 2010 itself assuring the repayment of entire amount.
Since these accounts were not serviced and were declared as Non-Performing Assets, 13 banks led by SBI moved DRT for the recovery of the money.
Besides State Bank of India, other banks who gave loan to Mallya's Kingfisher Airlines included State Bank of Baroda, State Bank of Mysore, Axis Bank, Corporation Bank, the Federal Bank, Indian Overseas Bank, Jammu and Kashmir Bank, IDBI Bank, Punjab National Bank, Punjab and Sind Bank, UCO Bank and United Bank of India.