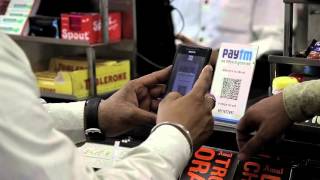 Online payments platform Paytm today announced plans to invest Rs 600 crore in its QR code-based payment solution to enable digital payments for merchants across India.
Paytm's QR code-based solution is already powering more than five million merchants and is used by consumers to pay at kirana (grocery) stores, tolls, food courts, hospitals and retail outlets. 
"Our zero per cent merchant transaction fee coupled with an aggressive merchant acquisition rate, will help us take QR code based payments to every nook and corner of country," Kiran Vasireddy, Senior Vice President, Paytm, said in a statement. 
Currently, the Paytm app is available in 10 regional languages, including Hindi, to make digital payments accessible to all. The company is aggressively planning to grow its merchant network. It is currently present in over 450 districts and plans to cover 650 districts in 2017.
Within a year of the launch of its QR code-based offline payments, it already contributes around 65 per cent of overall transactions on its platform, the company said. 
Paytm registered a huge spike in number of users after demonetisation was announced on November 8, 2016. The company clocked Rs 5,000 crore worth of transactions in the month of January, 11 per cent up more than it was in December, company founder Vijay Shekhar Sharma said last week.