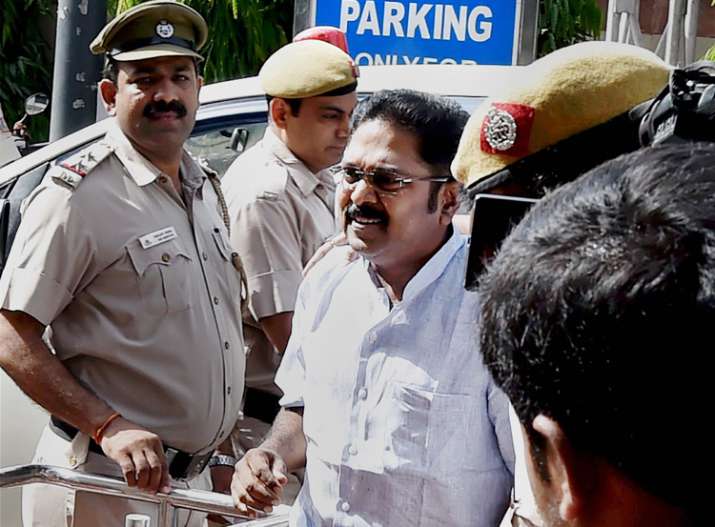 AIADMK (Amma) leader T T V Dhinakaran, who was arrested last night by Delhi Police for alleged attempts to bribe an Election Commission official, was today sent to five days police custody by a Delhi court. 
Dhinakaran is accused of trying to bribe an Election Commission official to get the undivided AIADMK's 'two leaves' election symbol for his faction before the now suspended RK Nagar Assembly by-poll. 
"TTV Dhinakaran was arrested on charges of attempting to bribe EC officials to get favorable order in petition for 'Two leaves'. He was arrested for arranging money from undisclosed sources and getting money transferred through illegal channels from Chennai-Delhi," Madhur Verma, DCP(Crime), Delhi Police, said. 
Dhinakaran was arrested yesterday after four days of questioning by the Delhi Police. 
His longtime friend Mallikarjuna was also arrested for allegedly facilitating the deal between the leader and Sukesh Chandrasekar, the middleman in the EC bribery case, after being quizzed for the second day on the trot, he said. 
Mallikarjuna had been accompanying Dhinakaran everywhere ever since Chandrasekar was arrested on April 16 for allegedly striking a deal of Rs 50 crore to help the AIADMK (Amma) faction keep the poll symbol. 
Dhinakaran, Mallikarjuna and Chandrasekar will be questioned together to establish the money trail, details of the deal and whether more people were involved in it, police said. 
Sources said that Dhinakaran's PA Janardhana has agreed to be a witness in the case. 
Dhinakaran, who was appointed deputy general secretary by AIADMK chief V S Sasikala, has been isolated in his party amid moves to merge rival factions led by Tamil Nadu Chief Minister EK Palaniswami and his predecessor O Panneerselvam. 
A powerful section of the ruling AIADMK (Amma) recently revolted against the Sasikala-Dhinakaran leadership. The development came after Panneerselvam, who is leading the rival faction, demanded ouster of Sasikala and Dhinakaran as a condition for merger talks.
Meanwhile, Banners featuring Sasikala were today pulled down from the party headquarters in Chennai, a move welcomed by the rival Panneerselvam camp.