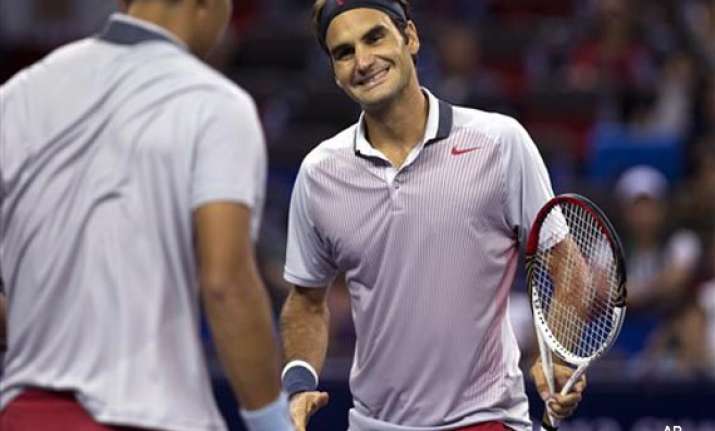 Shanghai: Roger Federer is in an unfamiliar position as the tennis season winds down—still fighting to secure a spot in the eight-man field at the ATP World Tour Finals in London.
Over the last decade, Federer usually had his spot in the season-ending tournament wrapped up months in advance. Now he's in the seventh spot coming into this week's Shanghai Masters, needing to put distance between himself and his nearest rivals, Stanislas Wawrinka and Richard Gasquet.
Federer hasn't missed the tournament since his first appearance in 2002, winning it six times.
"It's part of my goals for the end of the season, it's definitely a driving force behind me playing Shanghai, Basel and Paris now," Federer said. "I'm not just playing the tournaments trying to win it, but I'm also playing trying to qualify for the World Tour Finals. It kind of goes hand-in-hand."
Shanghai is Federer's first tournament since his fourth-round loss at the U.S. Open, which came on the heels of a second-round exit at Wimbledon. In what has been a disappointing year for the 17-time Grand Slam champion, questions about his form have become common place at news conferences.
He bristled a bit Monday when asked about the possibility of missing the ATP finals, and how much that was weighing on his mind.
"Depends how much I will get asked about it, honestly," Federer said. "If you don't ask me, I won't think about it so much. The more you ask me, the more you think about it, the more I'm clearly aware of exactly what needs to happen."
He looked more relaxed on the tennis court, where he teamed with China's top player Zhang Ze in the doubles tournament, winning 6-2, 6-1 over Kevin Anderson of South Africa and Dmitry Tursunov of Russia.
Federer rarely plays doubles, but said he hoped his partnership with Zhang would help give Chinese tennis a boost.
"I thought this year if I play doubles, it needs to be something different, something special," he said. "When I arrived here (and) they announced we were going to play doubles together, there was huge excitement. They were going to put us on center court on Monday. I thought, that's great, that's good for the game, good for tennis here in China."
They only needed 46 minutes to win their first match together, and after Zhang sealed the victory with an overhead smash, Federer heaped praise on his partner in the on-court interview.
"I thought he was the player of the match. I truly believe that," he told the crowd.
He then got a big laugh when the announcer asked him to repeat a Chinese phrase: "Wo geng shuai le,"—or "I'm more handsome." He quickly demurred when told what he said, adding, "No, still not."
Perhaps a little fun on the court is just what Federer needs as he tries to build some momentum ahead of what he hopes will be a more successful 2014.
"My mindset now is, OK, next year is going to be a great year again where I'm not going to have that many points to defend," he said. "I feel like I also need the end of this year to prepare for '14 because it has been a bit of a rocky patch the last couple of months. But my expectations will always remain very high. That will never change."