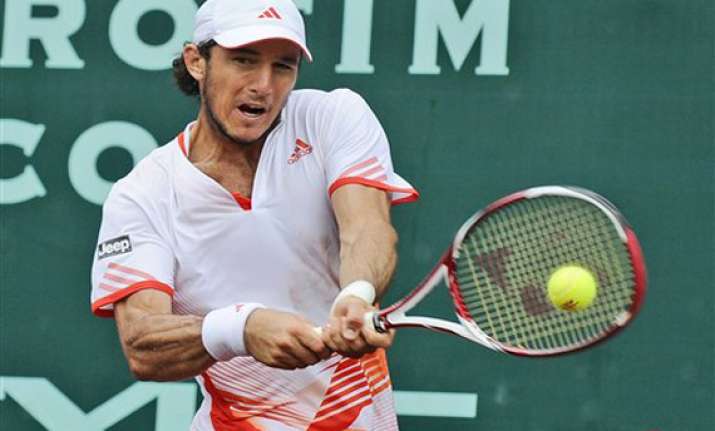 Houston , Apr 16: Juan Monaco indicated he will be a threat to the big-name players at the upcoming French Open by claiming his second clay court title of the season with victory in the U.S. Men's Clay Court Championships.
The 28-year-old Argentine defeated American John Isner 6-2, 3-6, 6-3 in the final.
Monaco rushed through his post-match media commitments, because he had to catch a flight to Europe and be in Monte Carlo in time for his match there on Tuesday.
"No time to rest," Monaco said. "I'm just going to make a quick warmup, and then I'm going to go on the court. My energy is OK. I've played a lot of hours here (in Houston).
I don't need to practice, I just need to focus on the match and do my best."
Isner would've moved up to No. 8 in the rankings with a victory, but Monaco broke Isner's serve three times to hand the American his first clay loss of the year.
The 26-year-old Isner dropped to 7-1 on clay in 2012, and he acknowledged after his semifinal win over Feliciano Lopez that he was playing on tired legs.
He arrived in Houston straight from Monte Carlo, where he won two clay matches to help the U.S. defeat France in Davis Cup play.
Isner felt fatigued in the first set, and Monaco took the early lead.
"It took me a lot to get warmed up and get me engaged in the match," Isner said. "I was pretty tired and kind of sluggish at the beginning."
The victory on Saturday moved Isner up to No. 9 in the rankings, and he became the top American, passing Mardy Fish. He already has wins this year over Novak Djokovic and Roger Federer, but dropped to 20-7 this year overall.
"Very good strides this year, but it still could be better," Isner said. "I've just got to keep working. I know there's room to improve in my game."
Monaco, meanwhile, improved to 11-2 on clay this year. He came in ranked 16th and his first victory in America will move up him to No. 14, matching a career high.
Healthy again after coping with ankle and wrist injuries over the previous three years, Monaco feels like he's close to top form, just in time for the height of the clay season. He's won four of his five career titles on clay, including a victory at Vina del Mar in February.
"This is a great moment in my career," Monaco said. "I'm very happy about that. Now, I have to keep working. This season is just the start. I have the clay season in Europe, which is very important for me."
The 6-foot-9 Isner won 44 consecutive service games in the tournament before Monaco broke him twice in the first set to take control. Isner had eight aces in the match, but also had five double faults.
The players contended with a stiff breeze that blew into their faces when they played at the north end of the court.
Monaco coped with the wind better, and he had Isner down 30-40 in the eighth game of the third set. When Isner missed a backhand wide, Monaco bent at the waist and clenched his fist, knowing he would serve for the match.
"It was really windy," Monaco said, "but I didn't think about that. I just had to keep playing, to keep moving my legs."
Monaco sprayed a forehand wide on the first match point, but caught Isner coming into the net and passed him with a pinpoint backhand down the line. Monaco dropped to his knees and clenched both fists as Isner trudged off the court with his head down.
"The final set, it was a battle," Monaco said. "We fought to the last point."