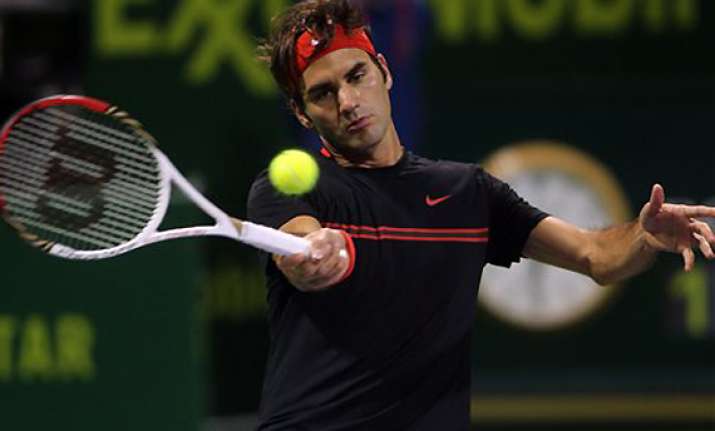 Doha, Jan 5: Defending champion Roger Federer was tested for the first time Thursday at the Qatar Open before overcoming Andreas Seppi of Italy 6-3, 5-7, 6-4 to reach the semifinals.

The third-ranked Federer set up a rematch of last year's semifinal against Jo-Wilfried Tsonga, after the sixth-ranked Frenchman brushed aside unseeded Albert Ramos of Spain 6-2, 6-1. The 30-year-old Federer is gunning for his fourth Doha title.

Federer, who had never dropped a set against Seppi in seven wins, jumped out to a 3-0 lead in just six minutes in the first set and appeared on the way to an easy victory.

But he fell apart in the second set, going down 5-1 after a string of unforced errors coupled with improved returns from the 38th-ranked Italian. Federer came back to tie the set at 5 but Seppi took the last two games, leveling the match when the 16-time Grand Slam champion hit his return long.

Federer fully recovered in the third, breaking Seppi to go up 2-1. He saved two break points to take control at 5-3 and closed out the match with a blistering forehand winner into the corner which Seppi couldn't reach.

Tsonga, who struggled to three-set wins in his first two matches, broke Ramos in the first game and was never seriously challenged. He broke Ramos a second time to go up 5-2, and then jumped out to a 4-1 lead in the second set, repeatedly pumping his fists when he hit winners and dancing as he closed out the match in just over an hour.

"I was very aggressive at the very beginning with my play so I did well today," said Tsonga, who joked this week that he was normally a "diesel engine" who starts slow.

Tsonga said he was most happy with his serving, winning 83 percent of the first serve points.

"It was good, because I had a good percentage, and, you know, with the wind I think it's a good weapon," he said.

"When the wind is across the court, you know, I can slice the ball. This is my best serve. When I play a lefty guy, you know, it's easier for me to put him, you know, out of the court. Then the court is open for me and it's easy."

In other quarters, Rafael Nadal plays Mikhail Youzhny, while Gael Monfils meets Viktor Troicki of Serbia.