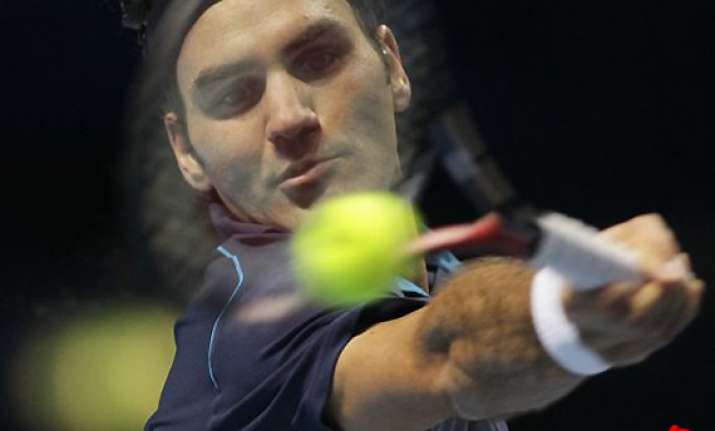 London, Nov 26: Roger Federer reached his 100th career final Saturday by beating David Ferrer of Spain 7-5, 6-3 in the semifinals of the season-ending ATP World Tour Finals.

In a tournament where his biggest rivals complained of fatigue after failing to make it out of the group stage, the 30-year-old Federer showed no signs of slowing down as he extended his unbeaten streak to 16 matches after winning titles in Basel and Paris before coming to London.

The former top-ranked Swiss star became just the fifth player to reach 100 finals in the open era, and will be looking for his 70th title overall on Sunday. The victory over Ferrer also means Federer will overtake Andy Murray for the No. 3 spot in the year-end rankings, behind No. 1 Novak Djokovic and Rafael Nadal.

He will face the winner of Jo-Wilfried Tsonga and Tomas Berdych, who played in the second semifinal later.

Djokovic and Nadal were both eliminated after losing two of their round-robin matches this week, and said their minds and bodies just weren't up for top-level tennis following another grueling season. Murray pulled out injured following his opening loss to Ferrer on Monday.

But Federer has played some of his best tennis of the year in London, and while he did not look as sharp against Ferrer as he did in his three group-stage victories, he never faced a break point.

He broke the fifth-seeded Spaniard twice in the second set, and converted his second match point with a forehand winner.

Ferrer came within two points of the first set on six different occasions in Federer's service game when the Spaniard led 5-4. But he never earned a break point in a game that went to deuce five times, and Federer finally held when Ferrer sent a backhand passing shot wide.

That marked a turning point, as Federer won the next four games as well to take control of the match.

Federer is looking for a record sixth title at the year-end event for the world's top eight players, which would put him ahead of Ivan Lendl and Pete Sampras, who both have five. He also tied Stefan Edberg with 806 career victories, putting them in a tie for sixth on the all-time list.

The other four players to have reached 100 finals are Jimmy Connors (163), Lendl (146), John McEnroe (108) and Guillermo Vilas (104).

In the doubles tournament, Max Mirnyi of Belarus and Daniel Nestor of Canada reached the final by beating American twins Bob and Mike Bryan 7-6 (6), 6-4. In the second semifinal, Mahesh Bhupathi and Leander Paes of India were set to take on Polish duo Mariusz Fyrstenberg and Marcin Matkowski.