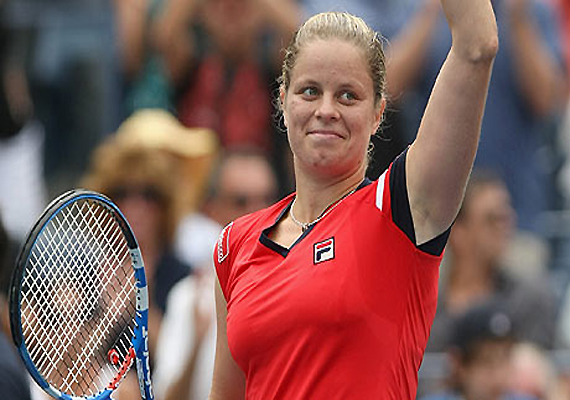 New York, Aug 28: Kim Clijsters began the last tournament of her career by winning her 22nd consecutive U.S. Open match, beating 16-year-old American wild card Victoria Duval 6-3, 6-1 in the first round Monday night.
Clijsters has left Flushing Meadows with the title each of the last three times she played -- in 2005, 2009 and 2010.  
She missed the Grand Slam tournament in 2011 because of an injured stomach muscle.
The 29-year-old Belgian is retiring after this year's U.S. Open.
"It was a special occasion. ... I was nervous, maybe almost as much as she was," Clijsters said.
"I'm happy that I'm still here," she added, "and still winning some matches."
Duval earned an invitation to this year's last Grand Slam tournament from the U.S. Tennis Association by winning the under-18 U.S. national championship.
Cheered by thousands of fans while walking out to face Clijsters, Duval explained, was an "indescribable feeling."
"It was much more than I expected. The whole atmosphere was just incredible," she said. "I was really nervous. But I thought I did a good job of not showing it."
Young as she is, Duval has dealt with some trying life experiences already.  
She was born in Florida, but grew up in Haiti, where her parents were from, and as a kid, Duval and some cousins were taken hostage by robbers.  
Then, in January 2010, when a massive earthquake struck Haiti, her father was buried in rubble, his legs broken, but survived.
"It helped my tennis in the sense that in those circumstances, we were just saying: No matter how tough things get, you're always going to get out of it.' So in my tennis, that's basically what I've been living by," Duval said.  
"No matter how down and out I am, I can get out of it."
After dropping the first two games Monday, Duval took advantage of a series of forehand errors by Clijsters to take the next three for a 3-2 lead after 13 minutes.
"Walking to the chair, I was like, `I am actually up 3-2 right now!"' Duval said, her eyes closed as she replayed the moment in her mind.
And then?
"She definitely picked up her level a lot," Duval said. "She played like Kim Clijsters from that point on."
Yes, Clijsters would go on to win 10 of the last 11 games, wrapping up the match in 51 minutes while compiling a 23-1 advantage in winners.
In the locker room afterward, Clijsters handed her cell phone to someone to snap a photo of her with Duval.
"I thought that was so nice, because I was the one that should be begging her for a picture," Duval said, giggling all the while. "She's definitely my idol."
Said Clijsters: "It's a great memory for me, as well, to be in the position that I was in, you know, playing somebody who followed me for most of my career."
No matter how well she fares over the next two weeks, Clijsters is walking away from her sport. It's not the first time she has announced she is retiring, but she insists it most definitely will be the last.
The pounding Clijsters' body takes from her aggressive style of play has led to a variety of injuries over the years, including a bad wrist that preceded her original retirement in May 2007. She got married later that year, and gave birth to daughter Jada in February 2008.
By August 2009, she was back on tour. Unseeded and unranked, because she only played in two previous tournaments during her comeback, Clijsters won the 2009 U.S. Open.
Indeed, she has left the U.S. Open as the champion each of the last three times she entered the field -- in 2005, 2009 and 2010.  
She missed the hard-court major tournament in 2011 because of an injured stomach muscle.
Hip and ankle problems kept her sidelined for nearly three months this season, and Clijsters came to New York having played only 24 matches in 2012 -- compared, for example, to the 55 entering Monday for No. 1-ranked Victoria Azarenka, who reached the second round by eliminating Alexandra Panova of Russia 6-0, 6-1.
The 23rd-seeded Clijsters could meet Azarenka in the quarterfinals next week, but that's a way's off.
Next for Clijsters will be a second-round match against another teenager, 18-year-old Laura Robson of Britain, a 6-3, 7-6 (6) winner against Samantha Crawford of the United States.
That, again, could be Clijsters' last time on court. And then will come the next stage of her life -- one without tennis.
"I didn't really miss it at all for two years. I was so into the lifestyle that I had at home. Obviously, I helped prepare for the wedding, and then we had Jada," Clijsters said.  
"My mind was kind of always busy, which is something that I'm going to have to do when I retire now."